Rugelach (Jewish Crescent Cookies with Nut Filling)
Makes 32 cookies
Rugelach, sometimes spelled rugalach, are Jewish crescent cookies made with a cream cheese dough (the original dough used sour cream) and filled with a variety of fruit or nut fillings. For years, my mother bought rugelach from bakeries that really were very good. Of course, I wanted to make my own using my favorite filling, which is just nuts flavored with sugar and cinnamon. After doing some research, this is the recipe that evolved. It is based on a combination of several different recipes that I found. These rugelach are absolutely delicious. Walnuts are the traditional nuts, but pecans can be used. For a quicker version, use store-bought puffed pastry or crescent rolls, but this cream cheese dough is very quick and easy to make.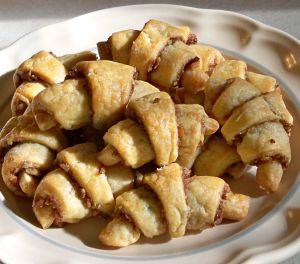 Ingredients
Cream Cheese Dough
1 cup butter, preferably unsalted, room temperature
1 cup cream cheese, room temperature
2 teaspoons granulated sugar
2 cups all-purpose flour, sifted
Nut Filling
1 cup walnuts or pecans
1/2 cup granulated sugar
2 teaspoons ground cinnamon
2 tablespoons brown sugar
1 egg white beaten with 1 tablespoon water, for glazing
Granulated sugar for finishing
To make the dough, cream the butter, cream cheese and sugar with an electric mixer until soft. Add the flour and mix until a dough is formed. Divide into 2 equal portions. Flatten each portion into a disk; wrap in wax paper or plastic wrap and chill at least 1 hour or overnight.
To make the filling, place the nuts and granulated sugar in a processor. Pulse until finely chopped, but not ground. Place in a small bowl and add the cinnamon.
To make the cookies, preheat oven to 350° F. Roll one piece of dough into a round of about 11 inches. Invert a 10-inch plate or other cutting guide on top of dough. Cut around the plate with a knife. Brush the surface of the dough circle with some of the egg white glaze. Sprinkle with 1 tablespoon of the brown sugar, then half of the filling. Press down lightly to help the nuts to stick to the dough. Using a sharp knife or pizza cutter, cut the circle into 4 wedges, then each wedge into 4 wedges again, to form 16 wedges. Starting at the wide end or base of the triangle, roll up to form spirals, then bend into a crescent shape. Place about 1-inch apart on a cookie sheet lined with parchment paper. Brush with some of the egg glaze, then sprinkle with granulated sugar. Bake until golden brown, about 25 minutes. Transfer to a wire rack to cool. Repeat with the other piece of dough. Store cooled cookies in an air-tight container for up to one week.
Notes: The dough left after cutting the circles can be shaped into small circles by hand and made into more cookies. A popular version of Rugelach uses apricot jam in place of the egg glaze and brown sugar to spread on the dough before adding the nut filling. It is very good, as well. Cookies freeze well for up to six months.