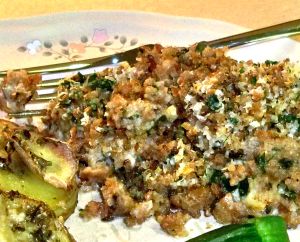 Enlarge Photo
Baked Oysters with Breadcrumbs and Garlic
http://teriskitchen.com/appetizers-recipes/baked-oysters.html
Serves 4 to 6 as an appetizer,
2 to 3 as a main dish
This is absolutely delicious and my favorite oyster presentation. The recipe was originally meant to be served as an appetizer, and I often make it as a first course or side dish with Thanksgiving dinner. However, with so many other good things to eat at that meal, we never seem to get enough of the oysters, so I make it as a main dish at another time so we can get our fill. It is quick, easy and, with a few optional alterations as noted below, a healthy seafood dish.
Ingredients
2 tablespoons butter
1 cup fresh breadcrumbs, from a rustic white or whole wheat bread
1 teaspoon finely chopped garlic
2 tablespoons finely chopped parsley
2 dozen large fresh oysters, well drained (see notes below)
3 tablespoons freshly grated Parmesan cheese
2 tablespoons butter, cut in tiny pieces
Preheat oven to 350° F. Generously butter, or spray with cooking oil, an ovenproof baking dish large enough to hold oysters in one layer.
Melt 2 tablespoons butter in a 6 to 8-inch skillet. When foam subsides, add breadcrumbs and garlic; toss in butter until crisp and golden. Remove from heat; stir in parsley. (Can be prepared several hours ahead and kept at room temperature.) Spread 2/3 cups of breadcrumb mixture in bottom of baking dish and top with oysters. Mix remaining breadcrumbs with Parmesan cheese and spread over oysters; top with butter pieces. Bake for 12-15 minutes or until the crumbs are golden and juices are bubbling. Serve immediately.
Notes: I always save and freeze the drained oyster juices and use later in oyster soup or fish chowder. This is best with large oysters, called select in my area, so that they remain plump and juicy after baking. Shelled oysters are usually sold by the ounce and 1 pint (16-ounces) equals approximately 2 dozen. For a healthier version that does not compromise flavor, I often use half the amount of butter to brown the breadcrumbs, and use olive oil to drizzle on the top before baking.
---