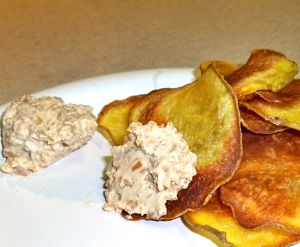 Enlarge Photo
Toasted Onion Dip
http://teriskitchen.com/appetizers-recipes/toasted-onion-dip.html
Makes about 1 cup
I admit it. I am a big fan of onion dip, the one most of us grew up with that was made with packaged onion soup mix. The problem is, my tastes have changed through the years and I find that even the lower sodium mix is too salty. So, I decided it was time to try something new. I experimented with several versions that used fresh onions caramelized in butter or oil. They were good, but a little rich and not at all like the dip I was trying to emulate. Then it hit me that all I needed to do was dry toast the onions in the oven. That was the taste I was looking for. I added sodium free granulated beef bouillon for flavor and used reduced fat sour cream mixed with nonfat plain Greek yogurt to make it a little healthier. Even with the extra time involved in toasting the onions, this is a very easy dip that can be served as an appetizer, snack or party food. Try it with the homemade baked potato chips in the similar and related recipes on the full page view linked above. For an even easier and quicker version using store-bought dried onions that is equally delicious, see the notes below.
Ingredients
1 medium yellow onion, thinly sliced (see notes below)
4 tablespoons sour cream (can use reduced fat)
2 tablespoons plain Greek yogurt (can use nonfat)
1/2 teaspoon granulated beef bouillon, low-sodium or sodium free
Salt to taste
Preheat oven to 225° F. Separate the onion rings and spread in one layer on a sheet pan lined with parchment paper. Bake until golden brown, about 1-1/2 hours, checking every 20 to 30 minutes and removing pieces as they brown. (The amount of time needed depends on the moisture content of the onion. If a few pieces do not brown, they can be used as is.) Cool and finely chop or crumble with fingers.
Mix together the sour cream, yogurt, beef bouillon and salt. Add about 4 tablespoons of the toasted onions. Mix well. Taste and add more onions, bouillon or salt as desired or, if too thick, add more sour cream. (The flavor will intensify slightly after the mixture sets for several hours.) Use immediately or refrigerate until needed, bringing to room temperature before serving.
Notes: There are occasions when, easy as it is, I do not want to spend the time to brown fresh onions. Store-bought dehydrated chopped onions can be used. Start with 5 tablespoons and toast in a 350° F oven or in a dry skillet for about 10 minutes, being very careful not to burn. Proceed with the recipe as indicated. Another option is to use pre-toasted dehydrated onions, available in some stores and online sources. The recipe can easily be made in any amount desired, but have extra toasted onions and sour cream available either to add more flavor or to thin out the dip as needed.
---