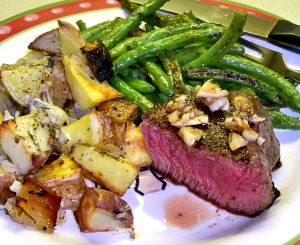 Enlarge Photo
Pan-Seared Filet Mignon (Beef Tenderloin Steaks)
http://teriskitchen.com/beef-recipes/pan-seared-filet-mignon.html
Serves 4
This recipe for beef tenderloin steaks is so quick and easy. You can use other cuts of beef steaks, preferably those that are very tender and relatively lean. If the steaks are thinner or thicker, adjust the cooking time accordingly. I usually purchase a whole beef tenderloin on sale and cut it into roasts and steaks, which is more economical than buying individual portions. Serve these steaks for an elegant dinner party, or any special occasion, as a simple and delicious main dish.
Ingredients
4 beef tenderloin steaks, about 1-1/4 inches thick and 4 ounces each
Salt and pepper to taste
2 teaspoons olive oil
1 teaspoon butter, preferably unsalted
2 large cloves garlic, chopped or thinly sliced
1 tablespoon chopped fresh parsley (optional garnish)
Pat any excess moisture off of the steaks with a paper towel. Season with salt and pepper on both sides. Heat a large skillet over medium-high heat. Add the oil and butter and swirl to coat bottom of pan. Add the steaks and sear on both sides until the desired doneness, about 4 minutes per side for medium-rare, depending on thickness. Add the garlic slices, making certain they are on the bottom of the pan, and cook one more minute or until golden. Place on individual serving dishes and let rest about 5 minutes. Meanwhile, add the parsley to the pan. Drizzle some of the pan juices and the garlic over each steak. Serve immediately.
Notes: If you prefer your steaks more done, lower the heat after the initial searing to prevent them from burning. Alternately, they can be finished in a 400° F oven until the desired doneness.
---