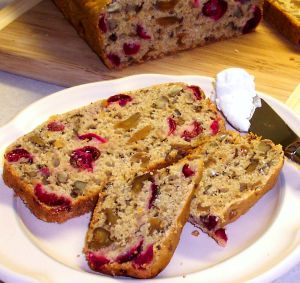 Enlarge Photo
Cranberry-Orange Nut Bread
http://teriskitchen.com/breads-recipes/cranberry-orange-nut-bread.html
Makes one 9-inch loaf
My mother's cranberry nut bread, which is in the similar and related recipes on the full page view linked above, was always a family favorite. However, I wanted to try a healthier version that would not sacrifice any of the delicious taste. It turned out to be an easy task. I replaced most of the all-purpose flour with nutritious, fiber-rich whole wheat pastry flour and substituted canola oil for the vegetable shortening. I also reduced the amount of sugar and toasted the nuts to enhance their flavor. What resulted is this recipe that is every bit as quick, easy and delicious as the original. See the notes below for some helpful tips.
Ingredients
Cooking spray
3/4 cup granulated sugar
1-1/4 cups whole wheat pastry flour
3/4 cup all-purpose flour
1/8 teaspoon salt
1/2 teaspoon baking soda
1-1/2 teaspoons baking powder
Grated rind from one large orange
3/4 cup orange juice
2 tablespoons canola oil
1 large egg
1 cup chopped walnuts or pecans, toasted
1 cup fresh cranberries, halved
Whipped or softened cream cheese, preferably reduced-fat (optional spread)
Preheat oven to 325° F. Spray a 9-inch loaf pan with cooking spray. Place the sugar, flour, salt, baking soda and baking powder in a large bowl and whisk well to combine. Add the orange rind and juice; mix well. Mix in the oil and egg just until combined. Fold in the nuts and cranberries. Pour into prepared pan. Bake until a cake tester inserted in the center comes out clean, 40 to 45 minutes. Cool in the pan for 5 minutes, then remove and place on a rack until cooled. Serve cream cheese for spreading. (Bread can be served immediately but, for the best flavor, wrap in foil, place in a zipper bag, and refrigerate overnight. The bread can also be made ahead, wrapped in foil, placed in a freezer bag, and stored in the freezer for several months.)
Notes: I usually use just one-quarter cup of the granulated sugar, and substitute a sugar substitute for baking (1:1 ratio) for the remaining one-half cup. The total amount of sugar in this recipe is to my taste. If you prefer sweeter baked goods, you can use up to one cup. Additionally, if you are not accustomed to lower sodium foods, increase the amount of salt to one-quarter teaspoon. To toast the nuts, place them on a sheet pan in a 350° F oven until lightly browned, 10 to 15 minutes, being careful not to burn them. The bread can be made in a slightly smaller loaf pan, or in several mini-loaf pans, adjusting the baking time accordingly.
---