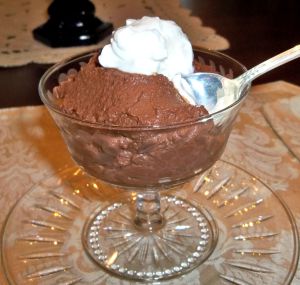 Enlarge Photo
Creamy Chocolate Mousse
http://teriskitchen.com/desserts-recipes/creamy-chocolate-mousse.html
Serves 4 to 6
This chocolate mousse is so good...and creamy...and rich...and chocolaty. It is based on a recipe by Marcel Desaulniers. It is a quick and easy way to make a delicious and elegant chocolate dessert for a family meal or a special occasion.
Ingredients
3 ounces unsweetened chocolate, broken into 1/2-ounce pieces
2 cups heavy cream
1/2 cup granulated sugar
Whipped cream and shaved bittersweet chocolate (optional garnishes)
Melt chocolate in a double boiler or microwave. Stir until smooth. Place in a large bowl and let cool. (The chocolate must be at room temperature when the whipped cream is added or it will seize up.)
Meanwhile, place whipping cream and sugar in a chilled bowl of electric mixer. Whip until soft peaks form.
Add about 1-1/2 cups of the whipped cream to the cooled melted chocolate, whisking vigorously until smooth and completely incorporated. Add that mixture to the remaining whipped cream and fold together until smooth. Refrigerate for about 3 hours. Place in individual sherbet glasses or dessert dishes. If desired, top with additional piped whipped cream and some shaved bittersweet or semisweet chocolate.
---