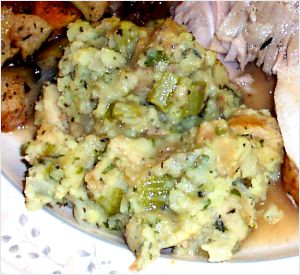 Enlarge Photo
Potato and Bread Filling (Pennsylvania Dutch Stuffing)
http://teriskitchen.com/pa-dutch-recipes/potato-and-bread-filling.html
Serves 6 to 8
This Pennsylvania Dutch recipe for potato and bread filling, sometimes called potato filling, has been a family favorite since the beginning of time. We had filling, which is what the PA Dutch call stuffing, several times throughout the year, but it was always served on Thanksgiving. My mother and grandmother used potato filling to stuff the holiday turkey, but it can baked in a separate casserole dish like a dressing as indicated below. Potato and bread filling goes well with any type of meat or poultry as a delicious substitute for other potato dishes. This recipe can be made in any amount and using any ratio of potatoes to bread. See the notes below for specifics.
Ingredients
3 medium potatoes
1/4 cup milk
1/2 teaspoon salt
1/4 teaspoon pepper
8 tablespoons (1 stick) butter, preferably unsalted
1 cup chopped onion
3 celery ribs, chopped
4 cups cubed home-style white bread, about 10 slices
2 eggs, lightly beaten
1/4 cup chopped fresh parsley
Salt and pepper to taste
8 tablespoons butter, cut into bits
Preheat oven to 350° F. Generously butter a 1-1/2 quart baking dish. Set aside. Cook potatoes in water until soft enough to mash. Drain, mash and beat in milk, salt and pepper. Transfer to large bowl. Melt the 8 tablespoons of butter in large skillet over medium heat. Add onions and celery; cook until just soft, about 10 minutes. Add to potatoes, using slotted spoon. Sauté bread cubes in same skillet until brown and crispy, adding more butter if needed. Transfer bread to potatoes. Add the eggs, parsley, salt and pepper to potato mixture. Mix thoroughly; transfer to baking dish. Dot the casserole with butter bits. (Casserole can be prepared up to 2 days ahead, refrigerated, and brought to room temperature before baking.) Bake in oven until hot, about 35 minutes. Cover with foil if top browns too much.
Notes: This recipe is extremely versatile. You can add up to 8 more potatoes or 2 cups of bread without changing other ingredients unless needed for moisture or seasoning. The bread can be browned in the oven, which is how I do it most often. That being said, it does not need to be browned at all, which is the way my grandmother made it. I usually add some dried sage and thyme for extra flavor, but it is not necessary. When serving with roast turkey or chicken, we always spoon some stock or pan juices from the bird on top of the casserole before baking. By the way, leftovers are terrific, covered and reheated in a 350° oven. It also freezes very well, portioned as desired, wrapped in foil and placed in freezer bags. I have successfully frozen filling for an entire year. For the past several years, I have used whole wheat bread and half the amount of butter to keep it a little healthier and less rich. Amazingly, my mother totally approved. It is still delicious and no one, including the cook, will notice the difference.
---