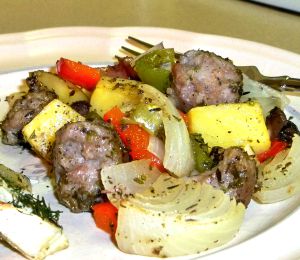 Enlarge Photo
Sausage and Potato Casserole
http://teriskitchen.com/pa-dutch-recipes/sausage-and-potato-casserole.html
Serves 4
This Pennsylvania Dutch recipe, with baked sausage, potatoes and other vegetables, is a quick, easy and delicious main dish for a busy weeknight or casual entertaining, needing only a salad to make a complete meal. Fresh sausage in Pennsylvania is quite different than the sausage I can get where I currently live and I miss that flavor. However, any fresh sausage can be used or, if preferred, the casserole can be made with smoked sausage.
Ingredients
1 pound fresh sausage links, cut into 3/4-inch pieces (can substitute smoked sausage)
4 medium potatoes, scrubbed and cut into 3/4-inch cubes
1 large green or red bell pepper or combination of both, coarsely chopped, about 3/4-inch pieces
1 large onion, coarsely chopped, about 3/4-inch pieces
4 ounces white or cremini mushrooms, whole or halved if large
2 teaspoons dried parsley
Salt and pepper to taste
Canola or other cooking oil
Chopped fresh parsley for garnish
Preheat oven to 400° F. Combine all ingredients in a baking dish lightly coated or sprayed with oil, adding just enough oil to the sausage and vegetables to lightly coat. Cover tightly with foil and bake for 30 minutes. Remove foil and continue to bake until vegetables are tender, about 20 minutes. Garnish with the fresh parsley and serve immediately or cover and keep warm in a low oven for up to 30 minutes.
---