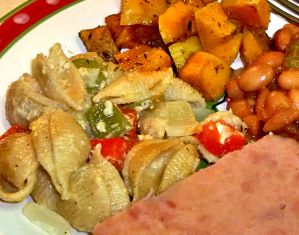 Enlarge Photo
Baked Macaroni and Cheese with Bell Peppers
http://teriskitchen.com/pasta-recipes/baked-macaroni-and-cheese-with-peppers.html
Serves 8
The idea for this recipe came from an issue of Bon Appetit. It called for broccoli bits and used grated reduced-fat cheese. It sounded interesting to me so I decided to make it as a side dish for Christmas dinner. I substituted red and green bell peppers for the broccoli to make it look festive. I used regular cheddar cheese because I am not fond of reduced-fat, and used extra sharp white so I could get more flavor from less. The ricotta cheese mixture replaces the béchamel sauce used in most macaroni and cheese dishes, such as my other baked version in the similar and related recipes on the full page view linked above. It produces a lighter, lower fat dish and the ricotta adds more flavor than a basic cream sauce. Admittedly, I added more of the cheddar cheese than was indicated in the original recipe, but still ended up with a lighter and healthier macaroni and cheese, even if not as low fat as the original. Most importantly, everybody loved it that first Christmas and they still do.
Ingredients
1 pound pasta, such as elbows or shells (see notes below)
1 large green pepper, cut into 1-inch pieces
1 large red pepper, cut into 1-inch pieces
1 medium onion, chopped
1 cup ricotta cheese (can use part-skim)
1/2 cup sour cream (can use reduced fat)
1 heaping teaspoon Dijon mustard
1/2 teaspoon Worcestershire sauce
1/2 cup milk, more or less as needed (can use reduced or nonfat)
Salt and pepper to taste
2 cups (8 ounces) shredded extra sharp cheddar cheese, preferably white
Preheat oven to 350° F. Cook pasta in lightly salted water according to package directions for al dente, adding the onions and peppers about the last 3 minutes of cooking. Drain; set aside.
Meanwhile, place ricotta cheese, sour cream, mustard and Worcestershire sauce in a medium bowl. Whisk until creamy and the texture of a light béchamel, adding milk if needed to thin slightly.
Place pasta, vegetables and ricotta mixture in bowl and mix to combine. Add salt and pepper. Add shredded cheese and combine well. Place in a greased 13x9x2-inch baking pan. Cover tightly with foil. Bake for about 30 minutes, or until hot and bubbly. If desired, remove foil to brown slightly.
Notes: The original recipe called for regular pasta, but I prefer to use whole wheat. It is healthier and works very well in a dish like this. The macaroni and cheese can be prepared ahead, placed in a baking dish, and refrigerated. Bake for approximately 60 minutes at 350° to 375° to heat through before serving.
---