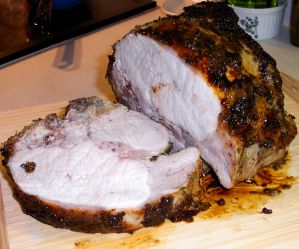 Enlarge Photo
Roasted Bone-in Pork Loin
http://teriskitchen.com/pork-recipes/roasted-bone-in-pork-loin.html
Serves 6 to 8
I love a boneless pork loin roast, but a bone-in loin is special, because the bones add flavor and help to keep the meat moist. Although it does take longer to roast, it is just as easy to make, at least in this recipe. If you want to carve the finished roast into individual chops for each serving, make certain you purchase a roast with the correct amount of bones. Have the butcher remove the chine bone. Alternately, you can ask the butcher to cut through the bones, not the meat, for the same purpose. Otherwise, see the notes below for carving.
Ingredients
One bone-in pork loin roast, 4 to 5 pounds
2 tablespoons Dijon mustard
2 teaspoons dried thyme leaves
2 teaspoons dried sage leaves
1 teaspoon garlic powder
Salt and pepper to taste
2 teaspoons olive oil
Optional Pan Sauce (
see gravy in notes below
)
3/4 cup dry vermouth or white wine
1 cup water
Salt and pepper to taste
Preheat oven to 350° F. Let the roast set at room temperature for 30 to 60 minutes. Rub roast all over with mustard. Sprinkle with the thyme, sage, garlic, salt and pepper and rub again, patting so the seasonings will adhere. Heat a skillet or small roasting pan, large enough to hold the roast, over medium-high heat. Add the oil. Sear the meat on all sides, about 3 minutes per side. Place in the oven, fat side up, until it reaches an internal temperature of 145° to 150° F, about 2 hours, basting every 20 minutes with pan juices or a little water. Remove from oven, place on cutting board, tent with foil, and let rest for 20 minutes.
Meanwhile, if desired, make a pan sauce. Place roasting pan over high heat. Add the vermouth and water. Bring to a boil, scraping up all the browned bits. Continue to boil until reduced by about half. Slice the pork into chops and serve, drizzling each serving with the pan juices.
Notes: If the chine bone has not been removed, follow the bones with a knife to remove the loin. Do the same with the tenderloin, then cut both sections into slices, serving a piece of each section per person. Cutting this way can yield more servings since the slices can be any thickness. If you prefer gravy to a pan sauce, add one cup chicken broth to the one cup water, make a slurry (flour/cool water paste) and whisk into the simmering broth until the desired thickness.
---