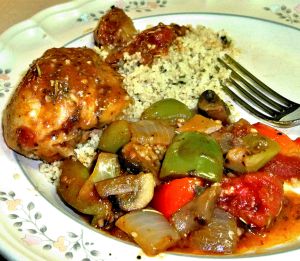 Enlarge Photo
Chicken Cacciatore (Italian Hunter's Chicken)
http://teriskitchen.com/poultry-recipes/chicken-cacciatore.html
Serves 4 to 5
It had been many years since I made chicken cacciatore and, when I wanted to make it again, I could not find the original recipe. After a little research, I decided to create my own version. It is so good and quite easy, requiring just a little preparation time. Serve for a family meal or casual entertaining with pasta or rice topped with some of the extra sauce.
Ingredients
One whole chicken, about 3 pounds, cut into serving pieces
1/2 cup all-purpose flour
Salt and pepper to taste
1/4 cup olive oil
1 medium onion, chopped
1 medium green pepper, chopped
2 ounces pancetta, chopped (see notes below)
4 large cloves garlic, minced
8 ounces fresh cremini or button mushrooms, halved
3/4 cup dry red wine
2 cans (14.5 ounces each) whole tomatoes with juices, crushed with fingers
1/2 tablespoon dried rosemary
1/2 tablespoon dried marjoram leaves
Freshly grated Parmesan cheese (optional for serving)
Pat chicken dry. Dip in flour seasoned with salt and pepper; shake off excess. Heat the olive oil in a large skillet or sauté pan over medium-high heat. Brown the chicken, in batches if necessary, until golden, about 3 minutes per side. Remove the chicken. Discard excess fat from skillet, leaving enough to cook the vegetables. Add the onions and peppers. Sauté about 5 minutes or until slightly softened. Add the pancetta and sauté another 3 minutes. Add the garlic and mushrooms; season with salt and pepper. Sauté another 2 minutes. Pour in the marsala and bring to a boil to reduce and deglaze pan, about 3 minutes. Return the chicken to the pan with any accumulated juices. Add the tomatoes, herbs and more salt and pepper. Reduce heat to medium-low. Cover partially and cook until chicken is tender, about 50 minutes. Serve the chicken topped with some of the sauce and sprinkled with the optional cheese.
Notes: Pancetta is an Italian bacon. I love the flavor. If you cannot find it, you can substitute regular bacon or omit it entirely. If you prefer, use your favorite chicken pieces, such as thighs, rather than cutting up the whole bird.
---