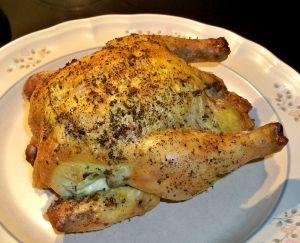 Enlarge Photo
Roasted Cornish Game Hens
http://teriskitchen.com/poultry-recipes/roasted-cornish-game-hens.html
Serves 4
When I make Cornish hens, I prefer to get them as small as possible, no more than one pound each, and serve one per person. I like the presentation of a whole hen on the serving plate. However, the ones I can find are usually larger and serve two people. Therefore, this recipe is based on that. If you prefer to serve one per person no matter what the size, as I often do, the recipe can easily be doubled. This recipe is an easy and delicious main dish that is quick enough for a weeknight, but equally appropriate for a special occasion or elegant entertaining.
Ingredients
2 Cornish game hens, about 1-1/2 pounds each
4 large garlic cloves, peeled
1 small lemon, cut into 4 pieces
Fresh whole sage leaves, or dried rubbed sage
Olive oil
Salt and pepper to taste
1 cup low-sodium chicken broth
1/2 cup white wine
Preheat oven to 400° F. Use your fingers to gently loosen the skin of the birds from the meat. Place a whole sage leaf under the skin on each breast half (or rub in the dried sage). Stuff each hen with 2 cloves of garlic, 2 lemon pieces and a little more sage. Rub olive oil all over the skin. Season with salt and pepper. Place in a small, shallow roasting pan and roast, basting occasionally, about 50 minutes or until an instant-read thermometer inserted into the thickest part of the thigh registers 170° and the juices run clear. Remove from pan and let rest for 10 minutes.
Meanwhile, make the sauce. Place the roasting pan over high heat. Add the broth and wine. Cook until reduced by about one-half, scraping any browned bits from the bottom. Remove the lemon and garlic from the hen cavities. Cut each into halves lengthwise. Serve immediately, spooning a little sauce on each.
Notes: If the hens contain the gizzards and necks, remove them and cook in about 2 cups water seasoned with salt and pepper until done, about 45 minutes. Use that instead of the chicken broth. If desired, the skin can be removed before serving, but keep it on for roasting.
---