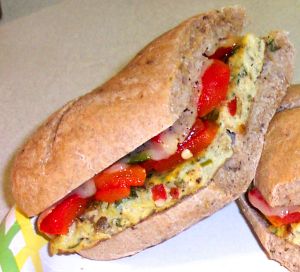 Enlarge Photo
Italian Omelet Sandwiches
http://teriskitchen.com/sandwiches-recipes/italian-omelet-sandwiches.html
Serves 4
I absolutely love an Italian omelet, called a frittata, whether by itself or in sandwiches. I often make more than I need just so I can use the leftovers in a sandwich. However, I also make the omelet specifically for sandwiches. All you need is some good Italian bread or crusty rolls, top the omelet with good cheese, add sliced tomatoes or roasted red pepper strips and some hot peppers for those who like a little heat. The sandwich can be heated or not. This is a quick, easy and healthy vegetarian main dish for lunch or dinner that even meat lovers will enjoy. See the similar and related recipes on the full page view linked above for variations on the omelet.
Ingredients
1 tablespoon olive oil, more if needed
1/2 cup chopped onion (1/2 medium onion)
1 cup chopped red and/or green pepper (about 1 medium pepper)
3 large cloves garlic, minced
8 large eggs
1 tablespoon dried oregano
2 tablespoons chopped fresh parsley (can use 1 tablespoon dried parsley flakes)
2 tablespoons freshly grated Parmesan cheese
Salt and pepper to taste
4 large crusty rolls or 8 thick slices Italian bread
Mayonnaise (can use light or canola)
Sliced tomatoes or roasted red pepper strips
Thinly sliced sharp Italian cheese, such as asiago or provolone
Hot pickled peppers (optional)
Heat about 1 tablespoon olive oil in large, preferably nonstick skillet over medium-high heat. Add onions and peppers; sauté until softened, about 10 minutes. Add the garlic and sauté an additional minute. Remove from the heat and let cool slightly.
Meanwhile, place the eggs in a large bowl with about 2 tablespoons water. Beat with a wire whisk until frothy. Add the sautéed vegetables, oregano, parsley, Parmesan cheese, salt and pepper. Beat until well combined. Return the pan to a burner over medium heat, adding just a little more oil, if needed. Add the egg mixture. Cook until set, pushing sides to center occasionally to allow wet portions to flow to bottom of pan, about 3 minutes. When the top is almost set, place a large plate or the skillet lid on top of the skillet. Turn the skillet upside down, catching the omelet with the plate. Return the skillet to the burner and slide the omelet in so that the bottom is now on the top. Cook for about one more minute, or until the bottom is set.
If using rolls, cut them in half horizontally. If desired, lightly toast the rolls or bread. Spread the insides with a little mayonnaise. Cut the omelet to fit and place on the bottom piece of bread. Top with the tomatoes or peppers, then the cheese. Place under a broiler to melt the cheese. Top with the optional hot peppers, then the other piece of roll or bread and enjoy.
---