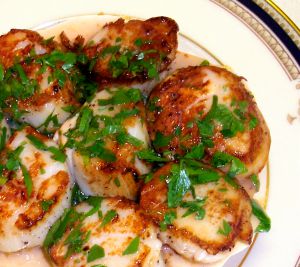 Enlarge Photo
Pan-Seared Sea Scallops
http://teriskitchen.com/seafood-recipes/pan-seared-sea-scallops.html
Serves 4 as a main dish, 8 as an appetizer
I love scallops, especially the sweet delicate flavor of sea scallops. Unfortunately, they are rather expensive, so I serve them as an occasional treat for a special event or elegant presentation, such as this quick, easy and delicious main dish. When I want to fry scallops, as in the similar and related recipes on the full page view linked above, I get the smaller sea scallops. For this recipe, I like them larger, twelve or less per pound.
Ingredients
1-1/4 pounds large sea scallops, preferably 12 or less count per pound
Salt and pepper to taste
Sweet paprika
2 tablespoons butter, preferably unsalted
1 tablespoon olive oil
Chopped fresh parsley (optional garnish)
Pat any excess moisture off of the scallops with paper towels. Season with salt, pepper and paprika on both sides. Heat a large skillet over medium-high heat. Add the butter and oil. (There should be enough of the butter and oil to lightly coat the bottom of pan. If necessary, add more butter.)
When the butter is hot, add the scallops. Do not overcrowd the pan. Cook in batches or in two pans if necessary. Sear on the first side until nicely browned, about 3 or 4 minutes. Turn and cook the other side for just one minute. Remove scallops from pan and place, browned side up, on individual serving plates. Drizzle with a little of the cooking butter. Sprinkle with additional paprika and chopped parsley. Serve immediately.
---