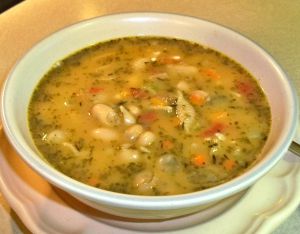 Enlarge Photo
Cannellini Bean and Pasta Soup
http://teriskitchen.com/soups-recipes/cannellini-bean-and-pasta-soup.html
Serves 2 to 3 (see notes below)
I love bean soup. Three of my favorite recipes, one from my mother, one that I created based on her recipe, and the third that came from an Italian friend, can be found in the similar and related recipes on the full page view linked above. I realized that I was not making any of those soups very often simply because I do not have time to deal with the dried beans unless I plan ahead, something I seldom do on a daily basis. So, I decided it was time to create a white bean soup that uses canned beans, a perfectly acceptable substitute for dried. I took ideas and ingredients from all three of those soups. It took many attempts to get the ratio of beans, liquid and pasta correct, but I finally got it. This has become one of my favorite 'go to' soups. Despite the number of ingredients, it is an easy, healthy, quick and delicious Italian-inspired one pot meal and comfort food for a busy weekday or casual entertaining. See the notes below for some tips and suggestions.
Ingredients
1 tablespoon olive oil
1/2 ounce pancetta, diced
1/2 ounce fat back, diced (see notes below)
1 large carrot, chopped
1 celery rib, chopped
1 small or 1/2 large onion, chopped
5 large garlic cloves, peeled and minced
1 cup chicken broth, preferably low-sodium
1/2 can (14.5-ounces) whole tomatoes, crushed with fingers, with juices (see notes below)
2 cups water, more if needed
1 can (15-ounces) cannellini beans with can juices, preferably low-sodium or no-salt-added
2 cans (15-ounces each) cannellini beans, rinsed and drained
1 teaspoon dried thyme leaves
1 tablespoon dried marjoram
1 teaspoon dried rubbed sage
1 teaspoon dried savory leaves
1 dried bay leaf
Salt and pepper to taste
1 cup medium shells or similar pasta, preferably whole wheat
Freshly grated Parmesan cheese for serving
Add the oil to a medium Dutch oven or soup pot. Heat over medium heat. Add the pancetta and fat back and cook until some of the fat has rendered, about 2 minutes. Add the carrots, celery and onions. Cook until softened, about 5 minutes. Add the garlic and cook another minute. Add the broth, tomatoes, water, beans, thyme, marjoram, sage, savory, bay leaf, salt and pepper. Bring to a boil over high heat. Cover, reduce heat to low, and simmer about 30 minutes. Taste, adding more seasoning if desired. Add the pasta and continue to simmer until tender, about 12 minutes depending on size and type. (At this point, add more broth or water if the soup appears too thick and taste again for seasoning.) Serve, passing the grated cheese separately.
Notes: Fat back is used in some Italian cooking for the flavor it adds. If preferred, you can omit it and substitute more pancetta. If you do not have pancetta, which is an Italian bacon, regular bacon can be used. For a vegetarian soup, omit the meats entirely. When I only need one-half of a can of tomatoes, I freeze the extra for another time. Cannellini beans, also known as white kidney beans, have a creamier texture than most white beans. Sometimes, when I make this soup, I substitute one can of great northern beans for one of the cannellini beans to add a different texture. Because of the sodium content in some of the ingredients, especially if you do not use low-sodium or no-salt-added products, I suggest you wait until tasting to add salt. I started using whole wheat pasta in all of my cooking years ago for the nutritional benefits but, of course, regular pasta is equally good. To serve four, add a little more broth or water, pasta and seasonings.
---