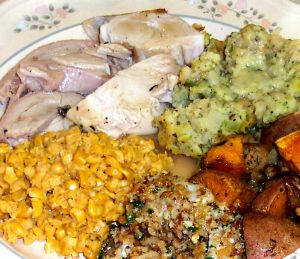 Enlarge Photo
Guide to Thanksgiving Dinner Planning and Preparation
(or other dinner party)
http://teriskitchen.com/thanksgiving-dinner-planning.html
The secret to the success of any large meal, especially a Thanksgiving feast, is planning and preparation. Plan your menu and choose the recipes about one month ahead. If you are a first-timer, take a little help from your friends and designate some to bring side dishes and/or desserts. Take stock of all equipment and logistics. Will you serve at the table or buffet-style? Decide which recipes will be heated in the oven, microwave or stove top. Plan for which serving dishes and casseroles you will need, as well as serving utensils. Design the table setting. Make a plan for beverages according to the needs of the meal and guests. Make a grocery list for make-ahead items. If you are getting a fresh turkey or specialty meat, order it early. If you are making homemade stock or broth, make and freeze it. Pie crusts can be made ahead, placed in pie pans, covered and frozen. Some breads can also be made and frozen then, if necessary, reheated in foil. Alternately, if you know you will have the time, that can all be done during Thanksgiving week and refrigerated.
One week before the event, make a final grocery list. Make certain there is ample room in the refrigerator to store premade items, fresh vegetables, and poultry or meats. A frozen turkey requires one day for every four pounds of weight to thaw in the refrigerator, so plan accordingly. Place it on a shallow-sided platter or sheet pan just in case it leaks. Even fresh birds are very frosty inside because they are kept at very low temperatures, so they are if purchased several days ahead and stored in the refrigerator. Some dishes, like cranberry sauce or relish, are best made at least one day ahead. Most stuffings and dressings can be prepared, placed in a casserole and refrigerated for several days. Other dishes can be assembled but not baked. Be certain that everything is covered well and refrigerated. The night before Thanksgiving is usually a very busy time so I make certain to have light leftovers from earlier in the week for dinner so that no one has to do other cooking or cleanup. Get any frozen items into the refrigerator so they can start to thaw.
Thanksgiving morning, plan to rise early. This is the beginning of the best part...the aromas of Thanksgiving Day. Make the pies or desserts. Have a place where they can be stored that is out of your way (and out of your family's reach). Prepare the turkey or other meat for roasting. Do all of the preps for last minute dishes. Salads can be assembled without dressing and refrigerated. If needed, make some whipped cream for the desserts and refrigerate. Get everything that needs reheating out of the refrigerator in plenty of time so that they can come to room temperature before going into the oven. Set the table and serving area. At this point, if you planned well, all should run smoothly. Just know that it is rare for everything to be perfect, but you can still be proud of your accomplishments and deserving of all the praise you will undoubtedly receive. So just relax and enjoy the day. Good luck and Happy Thanksgiving!
---