Mushroom and Goat Cheese Tarts in Mini Phyllo Cups
Makes about 60 tartlets
I am always looking for new hors d'oeuvres and party finger foods, especially those that are simple to prepare. This recipe fits the bill since it uses store-bought, prepared phyllo shells, usually found in the frozen foods section. Not only are they very crunchy, but lighter and healthier than the usual tart shells made from pie dough or puff pastry. And, although the mushroom and goat cheese filling takes a little time to prepare, it is easy and absolutely delicious.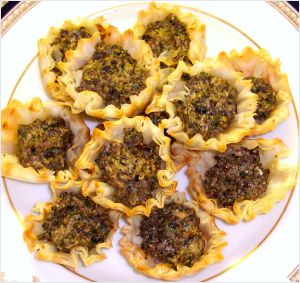 Ingredients
4 tablespoons olive oil, divided
1 medium shallot, chopped
2 large garlic cloves, chopped
1 pound cremini mushrooms, chopped or sliced
8 ounces mild goat cheese
1/4 teaspoon ground nutmeg, preferably freshly grated
3 tablespoons coarsely chopped fresh parsley
2 tablespoons chopped fresh chives (can use freeze-dried chives)
Salt and pepper to taste
60 phyllo tartlet shells (miniature tarts)
Heat 2 tablespoons of oil in a large nonstick skillet over medium heat. Add the shallots and sauté about 1 minute. Add the garlic and mushrooms. Sauté until softened, about 5 minutes. Remove from heat and allow to cool slightly, about 5 minutes. Transfer the mushrooms to a food processor. Add the goat cheese, 2 tablespoons of oil, nutmeg, parsley, chives, salt and pepper. Pulse just until the mixture is combined.
Meanwhile, preheat oven to 350° F. Fill the phyllo shells with the cheese mixture and place on a large baking sheet. Bake for about 10 minutes. Tarts can be served hot, warm or room temperature.
Notes: You can use any kind of button or wild mushrooms desired. I just like the flavor of cremini, also known as baby portabellas, and they are always available. Additionally, for a recipe like this, you can purchase pre-sliced mushrooms assuming you are going to use them within one or two days. That just makes life a little easier. Leftover tartlets can be frozen, then reheated without thawing. The recipe can be halved.