Beef Tenderloin Stew
Serves 4
When I purchase a whole beef tenderloin to cut into roasts and steaks for the freezer, there are always some portions, like the chain and tail, that I cut into well-trimmed cubes or strips for other uses. When I wanted to make a beef stew using some tenderloin cubes, I had to create a new recipe because they cook much quicker than the usual chuck or stew meat and, if overcooked, tenderloin becomes stringy and tasteless. Much to my surprise, the resulting stew has every bit as much flavor as the long cooked versions and it is still a fairly economical dish because there is very little waste on the tenderloin. It is also a leaner cut of beef so it is a healthier alternative. This quick and easy beef stew is equally delicious for a weeknight meal, special occasion or elegant entertaining, served with just a green vegetable or salad.
Ingredients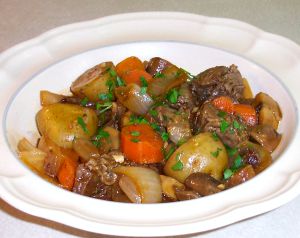 2 tablespoons olive oil
1 pound beef tenderloin cubes, about 3/4-inches each
Salt and pepper to taste
1 pound small or baby potatoes, halved (see notes below)
1 large onion, coarsely chopped
2 large carrots, cut into 1/4-inch slices
8 ounces cremini mushrooms, quartered (see notes below)
2 large sprigs fresh thyme
2 large stems fresh parsley
1 bay leaf
4 large garlic cloves, chopped
1 teaspoon flour
1 tablespoon tomato paste
8 ounces dark beer
1 tablespoon red wine vinegar
2 teaspoons Dijon mustard
2 tablespoons chopped fresh parsley
Heat a Dutch oven over medium-high heat. Add the oil. Season the meat with salt and pepper and add it to the pan in one layer. Cook the meat on until browned, flipping once, about 3 minutes per side. (If necessary, brown the meat in two batches. If the pan is crowded, it will steam rather than sear.) Remove the meat and set aside. Add the potatoes, onions and mushrooms to the pan and season with salt and pepper. Cook and stir until lightly browned in spots. Add the garlic and stir again. Add the flour and stir well to combine. Stir in the tomato paste and cook about one more minute. Pour in the beer and stir as it starts to boil, scraping up all the browned bits in the bottom of the pan. Add the vinegar, mustard and herbs. Bring to a boil, cover, reduce the heat to low, and simmer until the vegetables are tender, about 30 minutes. (If the stew juices are too thick, add just a little water to thin it out. If they are too thin, remove the lid so they will thicken.) Taste for seasoning, adding more salt or pepper as needed. Remove the thyme sprigs, parsley stems and bay leaf. Return the meat and any accumulated juices to the pot. Heat through, about 5 minutes. Serve immediately, garnished with the chopped fresh parsley.
Notes: The baby Dutch gold potatoes I use are usually about 2 x 1-1/2 inches, making them the perfect size for halving horizontally. Larger potatoes should be quartered and, if using regular-sized potatoes, cut them into about 1-inch pieces. The same applies to the mushrooms, although I cut those into about 1/2 to 3/4-inch pieces. If preferred, you can use white button mushrooms, but cremini have more flavor. If you do not have fresh thyme, use about 2 teaspoons dried thyme leaves. You can do the same with the parsley, but the fresh added when serving makes a big difference. This recipe works equally well with sirloin.