Cream Cheese-Filled Crumb Cake
Makes one 13x9x2-inch cake
I must admit that I love cheese-filled crumb cakes from the bakery, but they are usually too sweet so I decided to make my own. I started with my grandmother's Pennsylvania Dutch crumb cake, listed in the similar and related recipes, which we all love and have made for years. All I did was add a cream cheese filling. It turned out delicious, and I have heard from other people who have made it with equal success. There is a little less of the filling than in most store-bought varieties which I like because it is not as sweet. This cake is very easy to make and it is a perfect treat for breakfast, brunch, dessert or a potluck event.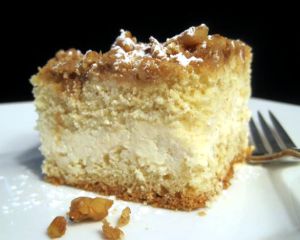 (Photo by Lynn. See below.)
Ingredients
Cake
1 cup butter, preferably unsalted, room temperature
4 cups all-purpose flour
1/4 teaspoon salt
2 cups granulated sugar
4 teaspoons baking powder
2 large eggs, room temperature
1 cup milk, room temperature
Cream Cheese Filling
8 ounces cream cheese, room temperature
1/2 cup granulated sugar
1 large egg, room temperature
1 teaspoon vanilla extract
For the cake, preheat oven to 350° F. Grease a 13x9x2-inch cake pan. In a large bowl, combine the butter, flour, sugar, salt and baking powder. Mix with your hands to form crumbs. Take out just enough for crumbs on top of cake, about 3/4 cup. Set aside. To the remaining crumbs add the eggs and milk; beat well.
For the filling, place all the ingredients into a medium bowl and beat with a whisk or handheld mixer until smooth.
To assemble, spread half the cake batter into the cake pan. Spread the cream cheese mixture on top to within about 1/2-inch of the edges. Gently spread the remaining batter on top of the cream cheese. Sprinkle the top with the reserved crumbs. Bake for 40-45 minutes or until cake tester inserted in center comes out clean. Remove from oven and set on a cooling rack to cool completely. To serve, cut into small squares.
Notes: Leftover cake should be wrapped well and refrigerated after a day so the cake does not dry out. Individual portions can be wrapped, placed in a freezer bag and frozen for up to three months.
The photo above of this recipe was found at food.com.