Old-Fashioned Peanut Butter Cookies
Makes about 5 dozen cookies
This recipe is for peanut butter cookies the way my mother used to make them, with the crisscross pattern on top. They have a soft texture and full peanut flavor. They are an easy and delicious dessert or sweet treat.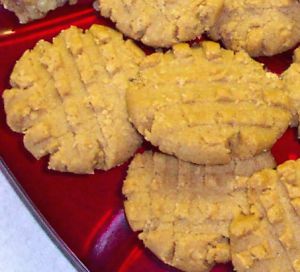 Ingredients
1/2 cup (1 stick) butter, preferably unsalted, room temperature
1/2 cup dark brown sugar, packed
Scant 1/2 cup granulated sugar
1 cup peanut butter (see notes below)
1 large egg, room temperature
1-1/2 cups sifted all-purpose flour
1/2 teaspoon salt
1/2 teaspoon baking soda
1/2 teaspoon vanilla
Preheat oven to 350° F. Cream together the butter, brown and granulated sugars. Add the peanut butter and egg; beat well. In a small bowl, combine the sifted flour, salt and baking soda. Stir with whisk to combine. Gradually stir into butter mixture, stirring well after each addition to blend. Add vanilla and beat well.
Roll dough into 1-inch balls and place on greased cookie sheet about 2-inches apart. Flatten each ball with a fork in a crisscross pattern. Bake for 10-12 minutes or until lightly browned around the edges. Remove from pan, place on racks and cool completely. Store in an air-tight container for up to three weeks.
Notes: When using peanut butter in baking, always use regular jarred peanut butter unless specifically called for in the recipe. That being said, I have used homemade peanut butter in this recipe and it works perfectly. My recipe is in the similar and related recipes. For this cookie you can use smooth or chunky peanut butter, but I prefer smooth. You can use anywhere from 3/4 to 1 cup of granulated sugar, depending on desired sweetness. For an added effect, dip the fork into granulated sugar before making the crisscross pattern. It makes some sparkles and helps prevent the fork from sticking to the dough. Cookies freeze well for up to six months and I have had success freezing them for a year.