Frittata with Mushrooms and Pancetta (Italian Omelet)
Serves 4
This recipe is based on a basic frittata, such as in the similar and related recipes, which is very versatile. I added mushrooms and pancetta, an Italian bacon. It is a quick, easy, healthy and delicious dish for breakfast, brunch, lunch or a light dinner. If you cannot find pancetta, feel free to substitute regular bacon or ham. For a vegetarian version, omit the bacon entirely. The omelet will still be delicious. Asiago is a sharp Italian cheese that I like in this presentation. Provolone is also very good. You can use Parmesan if that is what you have on hand. This recipe can be made in any amount, allowing two eggs per person. Leftovers make a great sandwich, topped with more cheese, in a crusty roll.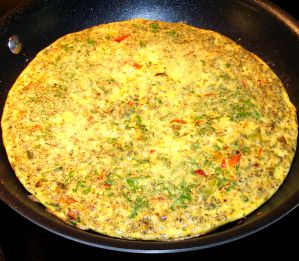 Ingredients
2 tablespoons olive oil, divided
1 ounce pancetta, diced
1/2 cup chopped onions
1/2 cup chopped red and/or green peppers
4 to 6 ounces cremini mushrooms, coarsely chopped (can use white button mushrooms)
3 large cloves garlic, chopped or minced
8 large eggs (or any size eggs you have on hand)
1 tablespoon dried oregano
2 tablespoons chopped fresh parsley (or 1 tablespoon dried)
3 tablespoons freshly grated Asiago cheese
Salt and pepper to taste
Preheat oven to 400° F. Heat about 1 tablespoon olive oil in large skillet over medium-high heat. Add the pancetta and sauté until lightly browned, about 3 minutes. Add the onions, peppers and mushrooms; sauté until softened, about 10 minutes. Add the garlic and sauté an additional minute.
Meanwhile, place the eggs in a large bowl with about 2 tablespoons of water. Beat with a wire whisk until frothy. Add the sautéed vegetables, herbs, cheese, salt and pepper. Beat until well combined. Heat about 1 tablespoon oil over medium heat in same skillet used to sauté the vegetables. Add the egg mixture. Cook until the bottom is set, pushing sides to center occasionally to allow wet portions to flow to bottom of pan, about 3 minutes. Place in the oven and bake until the top is set, about 5 more minutes.
Notes: This omelet is equally good served hot or room temperature. The amounts of the ingredients called for can easily be adjusted to individual tastes.