Grilled Lamb Blade Chops
Serves 4
Lamb blade chops, also called shoulder chops, are less expensive than loin chops and are excellent for grilling. During my summers at graduate school, my roommate and I made them on a small hibachi every week. She had never had them before and was instantly addicted. If you do not have an outdoor grill, make them on a grill pan or under the broiler, as in the similar and related recipes. This recipe is a quick, easy and delicious main dish for a busy weeknight or casual entertaining. I hope you enjoy it as much as I do.
Ingredients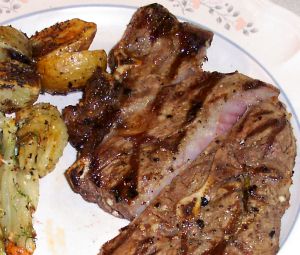 4 lamb blade chops, about 1/2-inch thick, well-trimmed
2 teaspoons freshly minced garlic
1 large sprig fresh rosemary (or 1 tablespoon dried)
1/2 cup dry red wine
2 tablespoons olive oil
Salt and pepper to taste
Place the lamb in one layer in a shallow dish. Mix the remaining ingredients in a small bowl. Pour the marinade over the chops. Turn them to cover both sides. Marinate for 30 minutes. (Longer marinating is not necessary but, if you do, refrigerate during the process.)
Meanwhile, heat the grill. Grill the chops over high heat to desired doneness, about 3 minutes per side for medium-rare, depending on thickness. Remove, tent with foil, and let rest for 5 to 10 minutes before serving.
Notes: Most of the lamb blade chops I can get are about 1/2-inch thick. If you find them thicker or thinner, adjust the cooking time accordingly.