Buttered Egg Noodles
Serves 4 to 6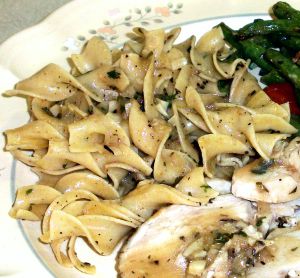 The Pennsylvania Dutch and Germans love anything made with dough. This recipe for buttered noodles is no exception. My mother often served noodles instead of the usual potatoes with a saucy entree, spooning some of the sauce or gravy on top. For something a little different, see the Browned Butter Noodles with Onions and Breadcrumbs, which is in the similar and related recipes. That version stands on its own when there is no sauce. Either recipe is a quick, easy and delicious side dish. Make this in any amount needed.
Ingredients
1 package (12 ounces) dried egg noodles (see notes below)
4 tablespoons butter, preferably unsalted
Salt and pepper to taste
Chopped fresh parsley for garnish
Cook the noodles in lightly salted water according to package directions. Drain well. Return the pot to low heat. Add the butter and melt. Add the drained noodles, salt, pepper and parsley. Toss until well combined. Serve immediately.
Notes: You can use any size noodle you like. For this recipe, I prefer extra-wide or hearty noodles. You can use more or less butter as desired. I love the flavor of whole wheat noodles, but the traditional PA Dutch dish was made with white. Buttered noodles can be made ahead and reheated in the microwave.