Hot Bacon Dressing for Salad
Makes about 1-1/2 cups
This Pennsylvania Dutch family recipe is a favorite sweet and sour dressing for green salads with dandelion, endive, or escarole. It works equally well with kale or romaine lettuce when the other greens are not available. It is also the dressing my family uses for our German potato salad recipe, which is in the similar and related recipes links. A salad with hot bacon dressing complements many meals, but we usually serve it with chicken pot pie, green beans and ham, baked ham or even with turkey for Thanksgiving. It makes a quick, easy and delicious side dish.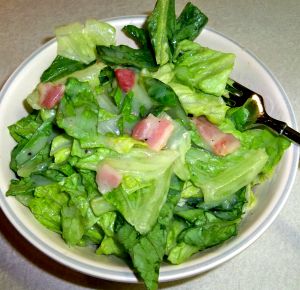 Ingredients
1 large egg, well beaten
1/3 cup granulated sugar
1/4 cup apple cider vinegar
3/4 cup water
1/2 teaspoon salt
4 strips bacon, cut into 1-inch pieces
1 tablespoon all purpose flour
Beat the sugar into the egg. Add the vinegar, water and salt; beat well. Meanwhile, brown the bacon in a small saucepan. Stir in the flour and stir until smooth.
Add the liquid to the bacon mixture and cook over medium heat until thickened, stirring constantly. Pour hot dressing over coarsely chopped greens and mix thoroughly until wilted. Serve immediately.
Notes: The dressing can be prepared ahead and reheated, stirring constantly to keep from sticking to saucepan. If it gets too thick, add a little water. Depending on how many greens you use, you might have leftover dressing. It can be refrigerated and reheated before pouring on fresh greens. Leftover salad can be refrigerated and reheated in microwave until warm. The greens will wilt more but taste just as good.