Jager Kohl (German Hunter's Cabbage)
Serves 4
This one skillet cabbage with sausage, bacon and potatoes is so good. It is an old German recipe that came from my mother. Jager Kohl translates to 'Hunter's Cabbage'. Mom said it is similar to a Pennsylvania Dutch dish my grandmother used to make. The browning process adds so much flavor to the cabbage and potatoes, but be very careful not to let them burn. Knockwurst is a German sausage, but the Polish Kielbasa is equally good with the cabbage and what Mom usually used. This recipe is a quick, easy and delicious one pot meal.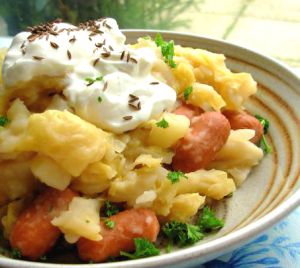 (Photo by Halcyon Eve. See below.)
Ingredients
1 tablespoon canola or vegetable oil
1 pound Knockwurst or Kielbasa, cut into 1/2-inch slices
4 slices bacon, cut into 2-inch pieces
3 large potatoes, cut into 1/4-inch thick slices
1 small to medium head cabbage, cut into thin wedges
2 tablespoons all-purpose flour
Salt and pepper to taste
1 teaspoon caraway seed
1 tablespoon apple cider vinegar or red wine vinegar
1 cup sour cream (garnish, can use reduced fat)
Heat a large skillet over medium-high heat. Add the oil, then the bacon and sausage. Sauté until lightly browned, about 3 minutes. Add the sliced potatoes and just enough water to make some steam. Reduce heat to medium; cook about 15 minutes, adding a little water if the potatoes get too brown. Add the cabbage wedges. Sprinkle with the flour, salt, pepper, caraway and vinegar; stir well to combine, scraping up the browned bits in the bottom of the pan. Cook until cabbage is tender, about 45 minutes, again adding a little water if needed to prevent burning. Just before serving, check the bottom of the pan. If there are browned bits, add just a little more water, scrape them up, and stir into the cabbage until the moisture has evaporated. Serve immediately, passing sour cream and, if desired, extra vinegar.
The photo above of this recipe was found at food.com. Beef sausage links and beef bacon were substituted for those who do not eat pork.