Nana Ranck's Molasses Cake (Dry Bottom Shoofly Pie)
Makes two 9-inch pies
Molasses Cake is another recipe for breakfast cake which, in this case, is actually a pie. As I was revising this page, I started wondering if it was just my grandmother who called it a cake or if that was common. After checking several cookbook sources, I am convinced that pies like this and my family's Funny "Cake", which is in the similar and related recipes links, were called cakes. Also in the links is a shoofly cake which is a true cake without a pie crust. Whatever you call it, Nana's molasses cake is an easy and delicious sweet treat for breakfast or dessert.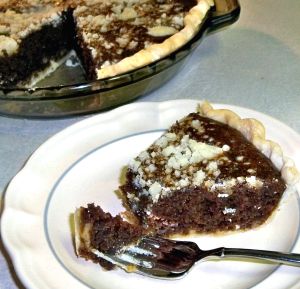 Ingredients
2 deep dish pie shells, unbaked
Cake (Pie Filling)
3 cups all-purpose flour
1 cup granulated sugar
1 cup unsulphured molasses
2 teaspoons baking soda
2 cups boiling water
Crumbs
3/4 cup all-purpose flour
1/2 cup granulated sugar
3 tablespoons shortening, preferably non-hydrogenated
Preheat oven to 350° F. Place pie shells into two 9-inch deep dish pie pans. For the cake, combine flour, sugar, molasses, baking soda and boiling water; mix just until well-blended. (Do not beat the batter or it might become tough.) In a separate bowl, combine the 3/4 cup flour, 1/2 cup sugar and 3 tablespoons shortening, using your hands to form crumbs. Put 1/4 of crumb mixture into each pie shell. Divide the cake batter between the two pans. Top each with 1/2 of the remaining crumbs. Place on separate baking sheets just in case they overflow. Bake for 50-60 minutes or until cake springs back to the touch, switching racks about half way through. Remove from oven and cool on racks before slicing.
Notes: If I recall correctly, my mother made these in four 6-inch pie pans. That was the way she and my grandmother made most of the breakfast cakes. When she helped me rewrite the recipe, we decided to use deep dish pans so there was no danger of the filling overflowing. However, the pans had extra space so I believe you could use regular 9-inch pans. Place the pies on sheet pans just in case they drip.