Pickled Beets
Serves 4
This recipe for pickled beets is a Pennsylvania Dutch favorite that is often served as one of the sweets and sours. The pickling liquid, a simple mixture of cider vinegar, water, sugar and salt, is the same recipe used for pickled cucumber salad, sweet and sour green beans and pickled red beet eggs, all of which are in the similar and related recipes. It is the base for many other sweet and sour foods. Once you learn the basic recipe, you can pickle any vegetables. The beets in the photo came from a batch of pickled red beet eggs. This recipe, which substitutes beet juice for some or all of the water, uses canned beets and can be made in any amount desired. See the notes below for pickling fresh beets.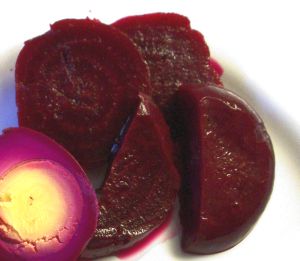 Ingredients
1/3 cup granulated sugar
1/2 teaspoon salt, or to taste
1/4 cup apple cider vinegar
1 can (14 to 16-ounces) sliced red beets, drained, reserving the juices (see notes below)
3/4 cup liquid (reserved can juices, plus water if needed to make 3/4 cup)
Mix together the sugar, salt, vinegar and red beet juice mixture until the sugar is dissolved. Place red beets in a container. Add enough pickling liquid to cover the beets. Refrigerate for at least several hours, but overnight is better. Beets will keep in the refrigerator for up to two weeks.
Notes: This recipe should make enough liquid for one can of beets. However, if you need more, you can quickly and easily make another batch using water instead of beet juice. When beets are in season, by all means use fresh. That is how it was done in the old days, and they would make extra for canning and preserving throughout the year. Cook the fresh beets until fork tender, peel and cut or slice. Use the cooking liquid in the dressing, passed through a cheesecloth if needed to remove any grit, and make more batches as needed to cover the beets. You can use any color or variety of beets you prefer, but the Pennsylvania Dutch usually use red.