Homemade Cheese Ravioli with Spinach Cream Sauce
Serves 4
When I first purchased a pasta roller attachment for my stand-up mixer, I could not wait to make homemade ravioli. I kept the filling simple in case I had problems with the dough. But the roller makes it so simple. If you do not have a heavy-duty mixer with optional attachments, you can purchase a pasta roller that clamps to a kitchen counter or table. I also have a ravioli mold which simplifies the filling and cutting process, but it is not necessary. See the notes below for forming the ravioli without a mold. This recipe is a bit time-consuming, but well worth the effort. I usually make the filling ahead of time and refrigerate so that I can just concentrate on the dough. I also roast the garlic, peppers and tomatoes early in the day. If you do not want to get into the dough-making process, you can purchase uncooked pasta sheets in many grocery stores. This ravioli can be used with any sauce. The creamy spinach sauce is perfect for a special occasion or entertaining.
Ingredients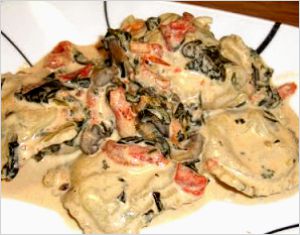 (Photo by Christine. See below.)
One recipe Basic Egg Pasta Dough (see similar and related recipes) or 1 pound store-bought uncooked pasta sheets
Filling
2 cups ricotta cheese (can use part-skim)
Half of a 10-ounce box frozen spinach, thawed and squeezed dry (reserve other half for sauce)
4 ounces mozzarella or provolone cheese, grated
1/4 cup freshly grated Romano cheese
1/4 cup freshly grated Parmesan cheese
1 teaspoon minced fresh garlic
1 tablespoon chopped fresh parsley
1 large egg, lightly beaten
Salt and pepper to taste
Sauce
1 small head roasted garlic (see similar and related recipes)
1 roasted red bell pepper (see similar and related recipes)
2 medium plum tomatoes
2 tablespoons olive oil
4 ounces cremini or white button mushrooms, chopped
Salt and pepper to taste
5 ounces reserved spinach, thawed and squeezed dry
1/2 cup dry vermouth or white wine
2 cups cream
1 tablespoon shredded fresh basil
Freshly shredded or grated Romano cheese for garnish
Make the pasta dough according to recipe directions. Let rest for about 30 minutes. (Can be prepared one day ahead and refrigerated. Bring to room temperature before rolling.)
Meanwhile, make the filling. Place ingredients in bowl in order given, mixing well to combine. Taste for seasoning. (Can be prepared one day ahead and refrigerated until use.)
Roll the dough using roller machine directions to the 5th or 6th setting. Place one sheet on ravioli mold and press with top to make indentions. Fill indentions with mixture. Using a finger or brush, moisten all around the edges of squares with water. Place another pasta sheet on top. Roll with rolling pin until the ravioli are cut out. Continue the process until all of the filling is used. Place ravioli in a single layer on baking sheets and refrigerate until use. (Can be prepared one day ahead, covered with plastic wrap and refrigerated until needed.)
For the sauce, roast the garlic and pepper according to the directions in the links. Cut the tomatoes in half and place under the broiler with the peppers. Turn once to brown both sides. (Can be prepared several hours before use.) Thinly slice the peppers and tomatoes. Heat a 10-inch skillet over medium-high heat. Add the oil. When hot, add the mushrooms and sauté until well browned. Add the garlic, peppers, tomatoes, reserved spinach, salt and pepper. Sauté another minute. Pour in the vermouth and cook until slightly reduced, about 1 minute. Remove pan from heat and proceed to cook the ravioli.
Use a large pasta or stock pot to cook ravioli. Bring water to a boil; add salt and a little olive oil. Carefully drop in the ravioli in batches, leaving lots of room for the water to boil around them. Cook for about 3 minutes or until pasta is al dente. Remove from pot and drain in colander; place in large serving bowl. Repeat until all the ravioli is cooked. Cover to keep warm.
To finish, return the sauce to a hot burner. Heat quickly, then pour in the cream. Cook until slightly reduced. Add the basil. Taste for seasoning. Pour the sauce over the ravioli. Sprinkle with Romano cheese and serve immediately.
Notes: To form ravioli without a mold, place one sheet on a lightly floured cutting board. Place mounds of filling in rows, spaced according to the size ravioli desired. Moisten a square around each mound with the water. Cover with the top sheet of pasta. Press around each mound of filling, being certain to get as little air as possible in between the sheets and to carefully seal the edges. Cut out squares with a knife or pastry cutter. Any leftover dough can be cut into strips, set out to dry for about one hour, then frozen for other uses. Uncooked ravioli can be frozen for up to six months and cooked from the frozen state.
The photo above of this recipe was found at christinecooks.blogspot.com.