Pasta with Broccoli Rabe (Rapini)
Serves 4 to 6
I love broccoli rabe, also called rapini, whether by itself, as in the similar and related recipes links, or with pasta. It is also sensational on pizza. This is another quick, easy, healthy and delicious vegetarian main dish that I learned to make from Italian friends. I prefer to use whole wheat pasta, but you can use white or multigrain.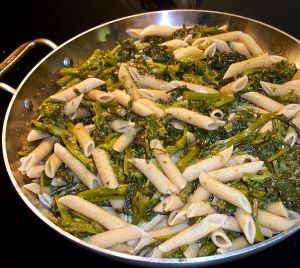 Ingredients
3 tablespoons olive oil
4 large cloves garlic, minced
2 pounds broccoli rabe (rapini), cleaned, tough stems discarded, cut into 2-inch pieces
Salt and pepper to taste
2 tablespoons balsamic vinegar
1 pound medium-sized pasta, such as penne rigate, white, multigrain or whole wheat
Freshly grated Parmesan cheese
Crushed red peppers (optional, see notes below)
Heat a large sauté pan over medium heat. Add the olive oil and heat. Add the garlic and sauté for one minute. Add the broccoli rabe and a little water for moisture. Season with salt and pepper to taste. Cover pan and cook for about 5 minutes. Add the balsamic vinegar. Cover and continue to cook until stems are tender, about 20 minutes, adding more moisture if needed. (If, like me, you prefer your greens to be very tender, cook for about 10 additional minutes.)
Meanwhile, cook pasta according to package directions for al dente. Drain most of the water from the pasta, reserving a little for the sauce. Add the pasta to the sauce; toss well to combine, adding some of the cooking liquid as needed for moisture. Add a little grated cheese and toss again. Serve immediately, passing the crushed red peppers and more cheese separately.
Notes: The crushed red peppers can be added to the sauce with the garlic if everyone likes the heat. I pass them separately so that each person can add them to taste, or not at all. This pasta is also good at room temperature.