Pasta with Cherry Tomatoes and Goat Cheese
Serves 4 as a main dish,
8 to 10 as a side dish salad
When I decided to make this recipe, I used a combination of ideas from some of my other quick and easy pasta recipes using fresh tomatoes from my garden. A couple of them use mozzarella cheese, which I always have on hand, either in the refrigerator or freezer. Much to my dismay, I had forgotten to restock and I just did not have time to go to the store. But I did have some mild goat cheese and I thought that might work as a substitute. To my delight, the goat cheese melted and made the sauce somewhat creamy. We all loved it instantly. This makes a quick, easy, and delicious light and healthy entrée, but could also be used a side pasta salad, or on a buffet, serving at eight to ten. Make this in summer when fresh local tomatoes are at their best. However, good cherry tomatoes are available in most grocery stores all year round.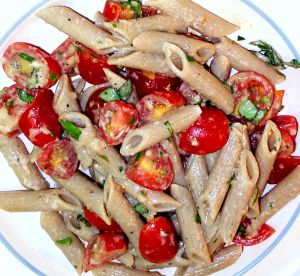 Ingredients
2 pounds fresh cherry tomatoes, halved (can use regular or plum tomatoes, seeded and chopped)
4 ounces mild goat cheese, crumbled
4 large cloves garlic, minced
3 tablespoons shredded fresh basil
2 tablespoons chopped fresh parsley
Salt and pepper to taste
1-1/2 tablespoons balsamic vinegar
1/4 cup olive oil
1 pound penne rigate or similar pasta (see notes below)
2 tablespoons freshly grated Parmesan cheese, plus more for passing
In a large serving bowl, combine the tomatoes, goat cheese, garlic, basil, parsley, salt, pepper, vinegar and olive oil. Let stand 30-60 minutes at room temperature to combine.
Meanwhile, cook the pasta according to package directions for al dente. Drain and add to the tomatoes. Add 2 tablespoons of the Parmesan cheese. Toss well to combine. Serve immediately. Pass additional Parmesan cheese separately. (If serving as a pasta salad, serve at room temperature.)
Notes: More and more pastas are sold in 12 or 14 ounce packages. Either will work in this recipe without changing the other ingredients, although I usually reduce the amount of goat cheese to 3 ounces. I prefer whole wheat pasta, and the slightly nutty flavor works very well with this sauce. Leftovers can be refrigerated but are best brought to room temperature before serving. They are equally good reheated in the microwave just until warm.