Nana Ranck's Stovetop Macaroni and Cheese
Serves 4 as a main dish, 8 as a side dish
If you are a cheese lover, this recipe for macaroni and cheese is definitely for you. It comes from my Nana Ranck. It is a very quick and easy example of a stovetop macaroni and cheese recipe because, as is typical of Pennsylvania Dutch cooking, it uses very few ingredients. In this case, the main ingredient is lots of cheese and there is no sauce. I do not know what Nana served with macaroni and cheese, but I usually have fried sausage and stewed or baked tomatoes, just like my mother used to do. The one change my mother made to Nana's original recipe is the addition of a little Parmesan cheese to enhance the sharp, cheesy flavor.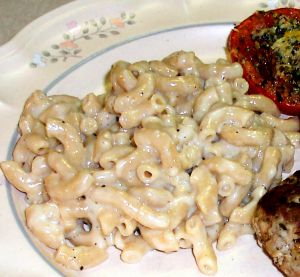 Ingredients
1 pound elbow macaroni or medium shells
1 pound extra sharp cheese, preferably white
1 tablespoon butter, preferably unsalted
2 tablespoons grated Parmesan cheese
Pepper to taste
Cook pasta in lightly salted water according to package directions for al dente. Drain well. Melt butter in pot. Return the pasta to the pot. Stir in the cheese and pepper. Cover and place over very low heat, stirring occasionally, just until cheese is melted. Serve immediately.
Notes: It is important not to let the finished dish set on the burner too long because the fats in the cheese will separate and become oily. When I need to keep it warm, I place the pot on a warming burner for up to 15 minutes, or in a warm oven for up to thirty minutes. The extra sharp cheese I use is Vermont white cheddar. You can use a different variety, or even a combination of your favorite cheeses. I listed the butter because it is part of Nana's original recipe, but I do not find it necessary. I now make this with whole wheat elbows, but my mother and Nana used white. Leftovers make a delicious goulash, which is in the similar and related recipes.