Boneless Pork Loin Roast with Mustard Rub
Serves 6 to 8
I love boneless pork loin roasts because they are so easy and versatile. In this recipe, I use Dijon mustard and herbs that I think are some of the best to complement pork. It is one of my 'go to' dishes for a busy weeknight, but it also makes a special presentation for entertaining. The sauce is optional, as is the butter in the sauce, which gives the pan juices a silky texture and more elegance. If preferred, you can use garlic powder instead of fresh for the mustard rub. Alternately, you can use all fresh herbs. If you are serving big meat eaters, count on having enough pork for five or six people.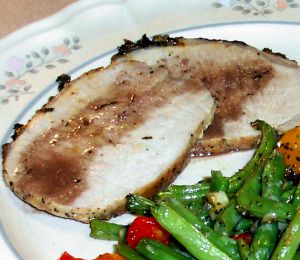 Ingredients
2 tablespoons minced fresh garlic
Salt and pepper to taste
2 teaspoons dried rosemary leaves
1 teaspoon dried thyme leaves
1 teaspoon rubbed dry sage leaves
1 teaspoon Dijon mustard
One boneless pork loin roast, about 2-1/2 pounds
2 tablespoons olive oil
1/2 cup dry white wine or vermouth
1 cup water
2 tablespoons balsamic vinegar
2 tablespoons butter (optional)
Preheat oven to 350° F. Mix together the garlic, salt, pepper, rosemary, thyme and sage on a working surface. Chop and smooth with a knife until somewhat pasty. Place in a small bowl; add the mustard and combine well. Pat the pork dry with paper towels. Season all over with salt and pepper. Rub the mustard mixture all over. Heat a 10-inch skillet over high heat. Add the oil. Place the roast in the pan, fat side down. Sear for about 3 minutes or until well browned. Turn and place in the oven. Roast, basting occasionally with the pan juices, until a meat thermometer inserted in the thickest part of the pork registers 145° F, about 60 minutes. Remove from oven and place roast on cutting surface. Tent with foil. Let rest while you prepare the sauce.
Place the skillet over high heat. Add the wine and bring to a boil, scraping up all of the browned pieces. Add the water and vinegar; reduce by one-third. Reduce heat to low. Whisk in the butter just until melted. Cut the pork to about 1/2 inch-thick slices. Place on individual serving dishes and top with some of the sauce. Serve immediately.