Grilled Pork Chops with Lemon-Mustard Marinade
Serves 4
I love bone-in pork chops and this recipe is one of my favorite preparations. It is quick, easy, healthy and delicious. The chops can be cooked outdoors, indoors with a grill pan or skillet, under the broiler, and in any amount needed.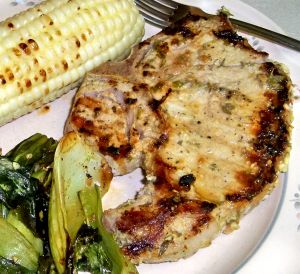 4 thick-cut, bone-in pork loin chops, trimmed of excess fat
4 large cloves garlic
1 tablespoon Dijon mustard
Juice of 1 large lemon
1 teaspoon dried thyme
1 teaspoon rubbed sage
1 teaspoon dried rosemary
Salt and pepper to taste
2 tablespoons olive oil
Place the chops in a shallow bowl in one layer. Combine the remaining ingredients in a small bowl. Pour over the chops, turning them to coat both sides. Marinate for 30 to 60 minutes, turning occasionally. (Cover and refrigerate if marinating for more than 60 minutes. Bring to room temperature before grilling.)
Prepare the outdoor grill for medium-direct heat. Let most of the marinade drip off of the chops. Grill the chops until nicely browned and cooked through, an internal temperature of about 150° F, about 8 minutes per side, depending on the grill and thickness of chops. Let rest, tented with foil, about 5 minutes before serving.