Stewed Chicken and Tomatoes with Toasted Orzo and Rice
Serves 6 to 8
This stewed chicken recipe is absolutely delicious. I got it from my sister-in-law, whose father was of Syrian decent, and they called it Shidee. It is quite simple to make and, once the chicken is stewed, a quick recipe. Make it for family or casual entertaining. Leftovers are equally good, sometimes better. See the notes below for a healthier variation using less butter without compromising flavor.
Ingredients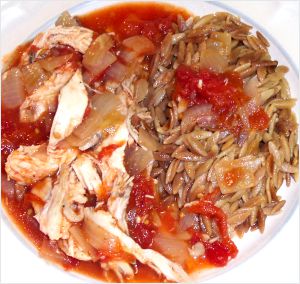 Chicken
1 small chicken, about 3 pounds, stewed, skin and bones removed, meat cut into bite-size pieces (reserve broth)
2 tablespoons olive oil
2 onions, chopped
2 cans (about 14.5 ounces each) whole tomatoes, coarsely crushed with fingers, with juices
Salt and pepper to taste
Orzo and Rice
4 tablespoons butter, preferably unsalted
1 cup orzo
1 cup long grain rice
3 cups broth from stewed chicken, divided
Heat olive oil in a large saucepan or Dutch oven over medium heat. Add onions and sauté until tender and slightly golden. Add the tomatoes, chicken, salt and pepper. Heat thoroughly and keep warm over low heat.
Meanwhile, place butter, orzo and rice in a medium skillet and cook over medium to low heat, stirring constantly until browned, being careful not to burn. Add 2 cups of the chicken broth. Cook until tender, about 20 minutes, adding a little more broth as needed. (If there is still some liquid in the orzo after 20 minutes, continue to cook until it is all absorbed.) To serve, place some orzo, chicken and tomatoes on individual plates, spooning some of the tomatoes and juice on top of the orzo.
Notes: Through the years, I have altered the recipe slightly to make it healthier. The original recipe called for one-half cup of butter in the orzo. It was rich, buttery and delicious, but not necessary to achieve the nutty flavor of the browned orzo and rice. I have reduced the amount of butter by half and, most often, I use even less. Either way, it is absolutely delicious. I also use whole wheat orzo. If you prefer to use only whole grains, omit the white rice and use all whole wheat orzo. I have done that many times. The stickier texture of most varieties of brown rice does not work very well in this recipe. If you choose to use brown rice, be certain to get a brand that cooks in about 20 minutes.