Turkey-Barley Casserole
Serves 4 to 6
This turkey and barley casserole recipe is absolutely delicious. It takes a while to cook, but the preparation is very easy. I prefer to use turkey thighs or wings, but legs work just as well. Serve for a family dinner, special occasion or casual entertaining.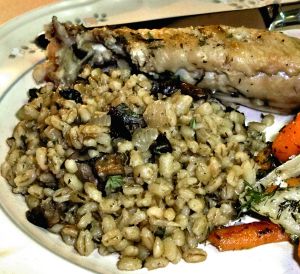 Ingredients
2 pieces, approximately 2-1/2 pounds total, bone-in turkey thighs, wings or legs
2 tablespoons butter, preferably unsalted, melted
Salt and pepper to taste
1 teaspoon ground savory, divided
1 cup chopped onions
1/2 pound chopped fresh cremini or button mushrooms
1-1/2 cups pearl barley
3 cups homemade or low-sodium chicken broth
1 teaspoon dried thyme
Salt and pepper to taste
Chopped fresh parsley (garnish)
Preheat oven to 350° F. Pour melted butter over turkey pieces in a Dutch oven or similar pot. Sprinkle with a little salt, pepper and a pinch of the savory. Bake uncovered for 45 minutes, turning occasionally. Remove turkey; set aside. Place Dutch oven on a burner over medium heat. Add onions and sauté until golden, about 5 minutes. Add mushrooms and cook until tender, about 5 minutes. Add barley and stir for 2 minutes, or until barley is golden. Add 1-1/2 cups of the chicken stock, remaining savory, thyme, and a little more salt and pepper. Top with the browned turkey pieces. Cover tightly and bake for 30 minutes. Add the remaining 1-1/2 cups of chicken broth; cover and cook 30 minutes longer or until barley and turkey are tender. To serve, slice turkey meat and arrange on top of barley on a serving platter. Sprinkle with chopped parsley. If desired, pass gravy separately,
Notes: I have made half of this recipe and it worked out fine. I believe it can be made in any amount, using a 2:1 ratio of broth to barley. I have also passed turkey gravy when I had leftover on hand. It is very good, but not necessary. The casserole can be prepared ahead and refrigerated or frozen after baking and cooling. If frozen, thaw in refrigerator overnight. Bake uncovered in 350° oven for 1 hour, or until bubbly.