Turkey Stroganoff
Serves 2
When I created this recipe, I had some sour cream that needed to be used. I thought about my beef stroganoff, which is in the similar and related recipes, but I did not have the right kind of beef in the freezer. I did have lots of cut-up turkey that I had packaged when I purchased a whole turkey on sale. Since I love turkey, I thought I might as well reinvent my stroganoff recipe to include turkey instead of beef. I made a few other changes to complement the milder poultry flavor and what resulted is every bit as delicious as the original. This is a quick, easy and healthy main dish for a family dinner or casual entertaining. The recipe can easily be doubled, using just enough additional sour cream to make a sauce.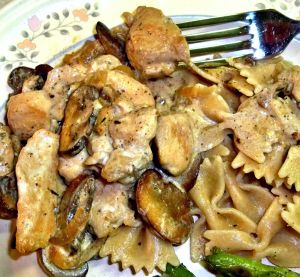 Ingredients
1 tablespoon olive oil, more if needed
8 ounces turkey breast or cutlets, cut into thin strips
Salt and pepper to taste
1 small onion, thinly sliced (about 1-1/2 cups)
4 ounces cremini or button mushrooms, thinly sliced
2 large cloves garlic, minced
1/2 teaspoon dried thyme leaves
1/2 teaspoon dry rubbed sage
1/2 cup dry sherry
1/2 teaspoon Dijon mustard
1/2 cup sour cream (can use reduced fat)
Heat 1 tablespoon olive oil in a 10-inch, preferably nonstick skillet over medium-high heat. Season the turkey with salt and pepper, then add to the pan. Sauté until lightly browned on both sides, about 3 minutes. Remove with slotted spoon and place on plate. If necessary, add a little more oil to the pan and the onions. Sauté until softened and golden about 5 minutes, stirring occasionally and reducing the heat if they brown too quickly. Add the sliced mushrooms, season with thyme, sage, salt and pepper and continue to sauté until browned, about 5 more minutes. Return the turkey to the pan with the garlic. Sauté briefly to reheat and make certain the turkey is cooked through. (Cut into a piece if necessary. The meat should be white and any juices clear.) Add the sherry and mustard; reduce just long enough to scrape up any bits in the bottom of the pan. Turn off the burner and add the sour cream, stirring just until hot. (For a saucier dish, add a little more sour cream.) Serve with noodles, rice or baked potatoes.
Notes: I prefer this dish with noodles or farfalle pasta, as pictured at right, and I always use whole wheat not only because it is healthier, but I love the flavor. To serve two, cook four ounces pasta to al dente, drain, toss with a little olive oil, salt and pepper. Return to the pot and keep warm until serving. Make a bed of pasta on each serving plate and top with half of the stroganoff. Yum!