Eggplant Wraps with Herbed Cheese Spread
Serves 4
I created this recipe for wraps when I had an abundance of eggplant coming out of the garden. I loved it instantly and made it often that summer. I have even made it with store-bought eggplants during the winter for a quick, light and easy sandwich dinner. The only problem is that I cannot decide which spread I prefer, One uses goat cheese, the other ricotta and provolone. Usually I make it with whichever I have on hand. In the recipe, I have listed the ricotta cheese version, and included a notation for the goat cheese variation. Either is delicious, so you can choose your favorite. The wraps I usually use measure 10x7-inches. You can use any size wraps or flour tortillas, serving two per person if small. Despite the length, this recipe is quick and very easy, and can be made in any amount needed.
Ingredients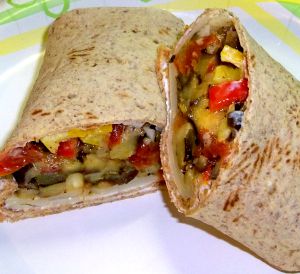 Eggplant Filling
Cooking oil spray, canola or olive oil
1-1/2 pounds eggplant, preferably small Oriental or Italian varieties
1/4 cup chopped red or green bell pepper
1 large tomato, seeded and chopped
2 large garlic cloves, minced
2 teaspoons dried oregano leaves
2 teaspoons dried basil leaves
Salt and pepper to taste
1 tablespoon olive oil
Herbed Cheese Spread
2 tablespoons part-skim ricotta cheese
2 tablespoons plain yogurt, preferably Greek-style low or nonfat
2 tablespoons freshly grated Parmesan cheese
1 tablespoon chopped fresh basil
1/2 teaspoon dried oregano leaves
Salt and pepper to taste
Additional Ingredients
4 large flatbread wraps, preferably whole wheat or multigrain
4 thin slices extra sharp provolone cheese (optional)
Hot peppers (optional)
Preheat oven to 450° F. Line a large shallow-sided sheet pan with foil for easy cleanup. Spray lightly with cooking spray. Wash the eggplant, then cut into 1/3 to 1/2-inch cubes. (Peeling is not necessary unless the skins seem very tough.) Place on the baking sheet with the peppers, tomatoes and garlic. Season with the herbs, salt and pepper, then drizzle with the oil. Toss well and spread out in one layer. Roast until the eggplant is tender, about 30 minutes, stirring once or twice. Let cool about 5 minutes.
Meanwhile, make the spread. Place all the ingredients in a small bowl and stir until well-combined. Taste for seasoning. Spread the flatbread lightly with the ricotta mixture. Place a slice of provolone cheese on the short end of each wrap, then add some of the eggplant mixture. Top with the optional hot peppers. To roll, first bring in the sides of the wrap, then roll, tucking the filling inside the wrap as you go. Cut each wrap in half on the diagonal and serve.
Notes: Sometimes I do not have ricotta cheese on hand, or I do not want to open a container for just two tablespoons. So I double up on the yogurt, sprinkle some mild goat cheese crumbles on the bread after it is spread, and omit the provolone cheese. Alternately, I have made these wraps using just provolone and they are still delicious. Sour cream can be substituted for the yogurt. Any extra eggplant filling can be refrigerated and eaten as is or in a sandwich the next day.