Grilled Hamburgers with Worcestershire Sauce
Makes 4 sandwiches
More often than not, I prefer not to add seasonings other than salt and pepper to my hamburgers. When I do, this is my choice for something very quick that enhances the beef without masking its natural flavors. You can add other herbs or spices, but these are my favorites.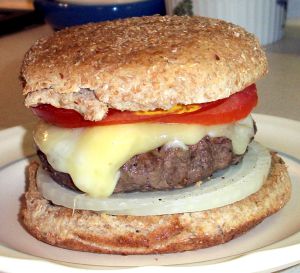 Ingredients
1 pound ground beef chuck or sirloin (see notes below)
1 tablespoon Worcestershire sauce
2 teaspoons dried chopped or minced onion
1/2 teaspoon garlic powder
Salt and pepper to taste
4 hamburger buns, white or whole wheat
Condiments and toppings
Mix all of the ingredients in a medium bowl. Divide into four portions and gently form into patties. Make a small indention in the center of each burger to help them cook evenly. Grill over direct heat or pan fry on medium-high heat to desired doneness.
Notes: Use 80% lean ground chuck for flavor and moisture, or ground sirloin, usually 90% lean, for a flavorful and leaner burger. Serve with your favorite buns and toppings. My favorites are sliced onion, a combination of cheddar and Swiss cheese, sliced tomato and yellow mustard, as shown in the photo. If adding cheese, place it on the burgers about a minute before they finish cooking so it will melt.