Meatloaf Parmesan Sandwiches
Make in any amount
Leftover meatloaf can be reheated as is, perhaps with a little tomato sauce, or used cold in regular sandwiches. See the similar and related recipes for more ideas, as well as my favorite recipes for meatloaf and turkey loaf. This recipe is probably my favorite presentation for using the leftovers because I love sandwiches, especially hot sandwiches, for dinner. Meatloaf Parmesan sandwiches are quick and easy enough for a busy weeknight and absolutely delicious.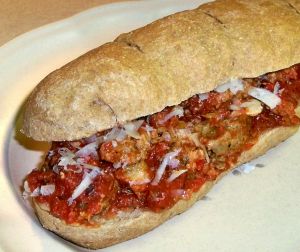 Ingredients
Store-bought or homemade marinara sauce
Sliced leftover meatloaf
Crusty sub rolls
Sliced cheese of choice
Freshly grated Parmesan cheese
Hot pickled peppers (optional garnish)
Heat a little of your favorite marinara sauce in a skillet large enough to hold the sliced meatloaf in one layer. Add the meatloaf, cover, and heat over a low burner until warm.
Meanwhile, halve the rolls horizontally and remove some of the inside bread to form boats. Toast the insides under the broiler. When the meat is warm, place slices on the bottom rolls. Top with a little sauce, then some cheese, such as mild mozzarella or, if preferred, a good sharp provolone, then a little more sauce and some freshly grated Parmesan. Return to the broiler just until the cheese is melted. If desired, top with hot peppers, then the tops of the rolls, and serve. Yum!