Tomato Sandwiches with Bacon and Cucumbers
Makes 4 sandwiches
I call this recipe is a BCT sandwich. It is my version of a BLT. I substituted cucumbers for the lettuce because I love the crunch and sweetness, and the optional cheese tops it all off. I like to use cucumbers from my Pickled Cucumber Salad, which is in the similar and related recipes, because it adds a little sweet and sour flavor, but plain, sliced cucumbers are equally good. I also like to add some dehydrated chopped onion. It adds a nice flavor without overpowering the other ingredients like a fresh onion tends to do. No matter how you make this sandwich recipe, it is a quick, easy, healthy and delicious main dish for lunch or a light dinner and a great way to use tomatoes from your garden or the local farmers' market.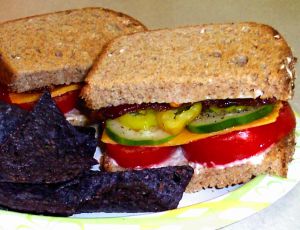 Ingredients
8 slices sandwich bread
Mayonnaise (can use canola or reduced fat)
2 medium-sized ripe tomatoes, sliced about 1/4-inch thick
Salt and pepper to taste
Dehydrated chopped onions (optional)
Thinly sliced sharp cheddar cheese (optional)
1 medium cucumber, thinly sliced
4 slices bacon, fried, baked or microwaved until crisp, drained on paper towels and broken in half
Toast the bread to desired darkness. Spread one side of each piece of toast with mayonnaise. Layer half of the slices each with tomatoes, seasoned with salt and pepper, the optional onions and cheese, then the cucumbers and bacon. Top with the other slices of toast. Cut in half and serve immediately.
Notes: When I use the cucumber salad, I add some of the onions from the salad to the sandwiches. They are very mellow from pickling. I also garnish with fresh basil when I have it on hand, and I rarely make a sandwich without adding some hot pickled peppers. This sandwich is especially good with whole wheat bread.