Homemade Cranberry Sauce
Makes 3 to 4 cups
I was never particularly fond of cooked cranberry sauce until I tried this recipe, and now it is the one I make for most of our holiday meals.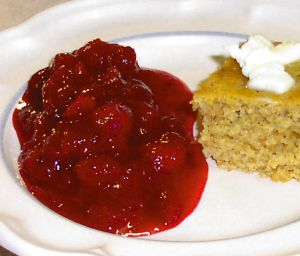 The recipe came from my friend, John Overholt. I made a few changes, mostly to convert from British measurements to American equivalents. To see John's original recipe, as well as my favorite uncooked cranberry relish, see the similar and related recipes.
Ingredients
1 pound fresh cranberries (see notes below)
1 cup orange juice
1 tablespoon grated orange rind, or from 1 large orange
1/4 teaspoon ground cinnamon
1/8 teaspoon ground cloves
8 to 10 juniper berries, crushed
1-3/4 to 2 cups granulated sugar (more or less to taste, see notes)
Place all ingredients in a medium-sized saucepan. Bring to a boil over high heat. Reduce heat to low; simmer until berries have popped and mixture is fairly thick, stirring occasionally, about 15 minutes. Cool before refrigerating. Chill before serving.
Notes: Cranberries used to come in pound packages, but now they are usually found in 12 ounce packs. Sometimes, I measure out enough from two bags to make one pound. Other times, I just use the 12 ounces, 3/4 cups of orange juice, and add a little less of the other ingredients. It always works. I have also made this substituting at least half of the sugar with a sugar substitute with a 1:1 ratio. Leftover cranberry sauce will last nearly a week in the refrigerator and is very good as is or for dessert with ice cream or yogurt.