Lentil Soup with Pasta and Pancetta
Serves 4 to 6
I think that all of my lentil soups are delicious, such as those in the similar and related recipes, but this Italian-inspired recipe is especially quick and easy enough for a healthy weeknight meal. If you want to make it vegetarian, omit the pancetta, substitute vegetable broth for the chicken broth and increase the amount of seasonings to taste.
Ingredients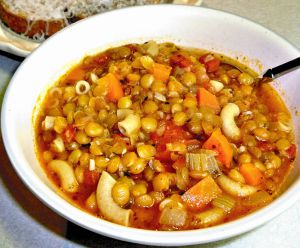 2 tablespoons olive oil
2 ounces pancetta, diced
1 large onion, chopped
2 medium carrots, peeled and chopped
2 large celery ribs, chopped
4 large garlic cloves, minced or finely chopped
1 tablespoon tomato paste
1 can (14.5 ounces) whole tomatoes with juices, crushed slightly with fingers
1 large bay leaf
1-1/2 teaspoons dried thyme leaves
1 tablespoon dried marjoram leaves
2 cups low-sodium chicken broth
10 cups water
Salt and pepper to taste
1 pound dry lentils
1 cup ditalini or small elbow macaroni (see notes below)
Freshly grated Parmesan cheese
Heat a large soup pot over medium heat. Add the oil and pancetta. Cook until some of the fat renders out, about 3 minutes. Add the onions, carrots and celery. Cook until softened, about 5 minutes. Add the garlic and stir in the tomato paste. Cook another minute. Add the tomatoes and stir, scraping up any browned bits in the bottom of the pan. Add the bay leaf, thyme and marjoram. Cook until the tomatoes break down slightly, about 3 minutes. Add the broth and water; bring to a boil over high heat. Add the lentils, salt and pepper and bring back to a boil. Reduce heat to medium-low, cover and simmer until lentils are tender, about 30 minutes. Add the pasta, cover, and simmer until done, about 10 minutes depending on type. Serve immediately, or let set, covered, on lowest setting for up to 30 minutes. Pass the grated cheese separately.
Notes: I prefer to use whole wheat pasta and it works perfectly in this recipe. As with most soups, leftovers are equally good and can be refrigerated for up to three days. The recipe can be made in any amount. However, when making half, I use half the amount of all ingredients, but a higher ratio of lentils, up to 3/4 pound total, and I do not reduce the amount of dried herbs.