Pan-Roasted Veal Chops with Garlic and Herbs
Serves 2
This veal chop recipe is quick, easy and delicious. The chops are seared in a hot skillet, then finished in the oven. You can use loin chops for a casual main dish or special occasion, or rib chops for a more elegant presentation. I prefer to use fresh herbs in this recipe, but I have used dried when I did not have fresh on hand and the chops are equally good. The recipe can be made in any amount needed. The pan sauce with the vermouth is optional, but just a little drizzle on each chop adds a nice finishing touch.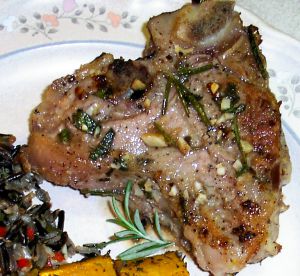 Ingredients
2 veal loin or rib chops, about 1-1/4 inches thick
2 teaspoons fresh rosemary leaves (or 1 teaspoon dried)
2 teaspoons fresh sage leaves (or 1 teaspoon dried)
1 large garlic clove, minced
Salt and pepper to taste
1 tablespoon olive oil, more if needed
Optional Sauce
1 cup extra dry vermouth
3/4 cups water
Place chops on a plate or in a shallow bowl. Add the rosemary, sage, garlic, salt, pepper and enough olive oil to moisten. Rub the seasonings into both sides. Let set at room temperature for 15 to 30 minutes.
Preheat oven to 375° F. Heat a 10-inch skillet over medium-high heat. Pat the chops dry with paper towels. Add 2 teaspoons oil to the skillet. Add the chops and sear until lightly browned, about 3 minutes per side. Place in oven and roast until done, about 15 minutes for medium. Remove from skillet and cover loosely with foil. Let rest for 5 minutes.
Meanwhile, make the optional sauce. Pour off any excess fat from the skillet. Place the skillet over high heat. Add the vermouth and water, Boil, scraping up all of the browned bits in the bottom of the pan, until reduced by about two-thirds, adding any accumulated juices from the resting chops. Serve the chops, drizzling some of the pan juices over each.