Homemade Tortilla Chips
Make in any amount desired
Homemade tortilla chips are very easy to make and really do taste better than packaged. I prefer to use corn tortillas, but the recipe works with flour tortillas as well. I have included instructions for both baked and fried chips. The baked are, of course, healthier and my favorite, but either method is easy, quick and delicious.
Ingredients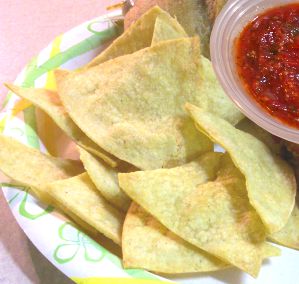 Corn or flour tortillas, 6-inches round, each cut into 6 or 8 triangles
Canola oil or cooking spray
Salt to taste
To bake: Preheat oven to 400° F. For easy cleanup, line a sheet pan or cookie sheet large enough to hold the tortillas in one layer with foil. Brush or spray with oil. Place the cut tortillas on the pan. Lightly brush or spray the tops with oil. Bake for 5 minutes per side (see notes below). Remove from oven. Season with salt. Cool completely and store in an airtight container.
To fry: Heat about 1/2-inch oil in a large skillet over high heat. Place the triangles into the hot oil in batches and fry until they puff, adjusting heat as needed. Drain on paper towels or a cooling rack; sprinkle with salt.
Notes: Make certain that the chips are crisp. Anything less and they will be tough. This is especially true when baking corn tortillas. You can easily tell by breaking one. It will snap when crispy.