Beef Pie
Serves 4 to 6
My grandmothers made meat pies that were both delicious, but very different from each other. Grandmom Weber made a double crust, shredded the beef and used a thick gravy. Nana Ranck omitted the bottom crust, used chunks of beef and vegetables, and a very thin broth. Since that was my father's favorite, my mother made it most often. This recipe is based on both of those recipes, using two crusts, small cubes of meat and vegetables and a thickened broth. My brother, who always requested meat pie for his birthday, recently reminded me that Mom substituted pork for some of the beef when she made it for his special day, and he still makes it that way. I should mention that neither of my grandmothers used olive oil or garlic in their cooking because it was not available, and they probably did not cook with wine. Meat pie takes a bit of time to make but, since most of the time is hands off, it is really an easy and delicious one pot comfort meal.
Ingredients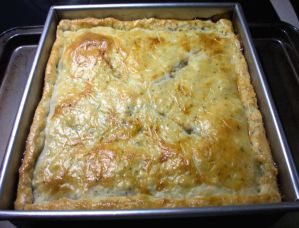 1-3/4 pounds beef chuck, well-trimmed and cut into 3/4-inch cubes
All-purpose flour
Salt and pepper to taste
2 tablespoons olive oil, more if needed
1/2 small onion, coarsely chopped
4 large cloves garlic, finely chopped
1 cup dry red wine
1 cup water
1 bay leaf
1/4 teaspoon dried thyme
1/4 teaspoon dried marjoram leaves
4 medium white potatoes, peeled and cut into 1/2-inch cubes
1 medium onion, coarsely chopped
4 medium carrots, sliced into 1/2-inch pieces
1 recipe for double crust pie (see recipe in the similar and related recipes links)
1 egg, lightly beaten
Lightly coat the beef cubes with flour. Sprinkle with salt and pepper. Heat the olive oil in a large stew pan over high heat. Add the beef in batches and brown on all sides. Remove to plate. Add more oil between batches if needed. When beef is browned, reduce heat to medium-high and sauté the onions until lightly browned. Add garlic and sauté one more minute. Return beef to pan; add wine, water, bay leaf, thyme and marjoram. Reduce heat to medium-low, cover and simmer until meat is almost tender, about 1-1/2 hours. Stir occasionally; add a little water if needed.
Add the potatoes, onions and carrots to beef. Cover and simmer for an additional 30 minutes or until vegetables are tender. Remove from heat and cool to room temperature.
Make crust according to directions and separate into 2 balls. Flatten into rectangular shapes, wrap in plastic wrap, and refrigerate for at least 30 minutes. Preheat oven to 425° F. Roll one ball into a rectangle to fit the bottom of an 8 x 8-inch or similar size baking dish. Place in dish and add meat mixture. Roll the other ball to fit over top. Crimp edges with bottom crust; prick with fork and brush with beaten egg. Bake for 10 minutes; reduce heat to 400° and bake an additional 20 to 30 minutes or until crust is golden brown and filling is bubbly. Let rest about 10 minutes before cutting and serving.