Beef Vegetable Soup
Serves 6 to 8
This brings back wonderful memories from my childhood. My grandmother used to make beef vegetable soup using vegetables from her garden and canned some for later in the year. Others in her family got together every year and made multiple batches for a church fund-raiser. It was all so good. Lots of beef flavor and packed with vegetables and beans, most of which came out of their own gardens. Back then, they used meaty soup bones from the butcher that had so much flavor, all they needed to do was cook them in water to make the broth and ample meat for the soup. If you can find meaty soup bones, use them. However, the only soup bones I can find have very little, if any meat. They work for a stock, as in the similar and related recipes, but not when you want some meat in the soup. So, I usually make a broth from beef ribs or short ribs by browning them in the oven and then simmering them in water, as in this recipe. The flavor comes out the same. It just takes a few extra steps and is a bit more costly, but I stock up when the ribs are on sale. As for the vegetables, I use some frozen, like the lima beans, peas and corn, because they are just as good as fresh, which are difficult to find most of the year. Other changes to my grandmother's recipe were made by my mother. She added the garlic, herbs, broccoli and cauliflower. You, too, can alter the soup to your own tastes. However, if you want the Pennsylvania Dutch version, you must include the dried beans, lima beans, corn, turnips, cabbage and tomatoes, as well as the basic carrots, onions and celery.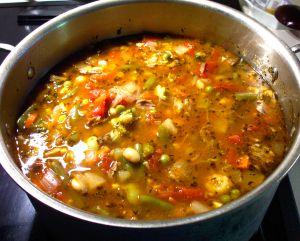 Ingredients
Broth
4 pounds beef ribs or short ribs
1 large onion
2 medium carrots
2 stalks celery
4 large garlic cloves
2 bay leaves
1/2 teaspoon dried thyme
Salt and pepper to taste
Water
Soup
1/4 cup dry northern beans
4 cups water, plus more
2 cans (14.5 ounces each) whole tomatoes, broken apart, with juices
Salt and pepper to taste
1 teaspoon dried thyme leaves
1 teaspoon dried marjoram leaves
4 cloves garlic, lightly smashed, peeled and coarsely chopped
1 large onion, coarsely chopped
1 large carrot, peeled and diced
1 large celery rib, diced
2 small turnips, chopped small
1 cup shredded cabbage
1 cup small pieces of broccoli florets
1 cup small pieces of cauliflower florets
1 pound green beans, ends removed, snapped into 1-inch pieces
8 ounces frozen fordhook or similar lima beans
8 ounces frozen corn kernels
8 ounces frozen peas
For the broth, preheat oven to 475° F. Season the ribs with salt and pepper and place in a single layer in a shallow roasting pan, meaty side up. Roast until very brown, about 1 hour, turning once to brown both sides. Remove from pan. Pour off fat from roasting pan. Place pan over high heat; add water and cook, scraping up all the browned bits from the bottom. Place the ribs and pan juices in a large stockpot along with the other ingredients, adding just enough water to cover. Bring to a boil over high heat, then reduce to medium-low; cover and simmer until the meat and vegetables are very tender, about 1 hour. Strain through a colander or sieve. Discard vegetables, pull meat off bones, remove fat and shred meat. Reserve meat for later. Skim fat off broth. (Can be prepared up to 3 days ahead and refrigerated.)
Meanwhile, place beans in a small pot. Cover with water by about 1-inch. Bring to a boil and cook for 2 minutes. Cover, remove from heat and let stand for 1 hour. Drain.
Add soaked beans and 4 cups water to beef broth. Bring to a boil. Cover, reduce to a simmer, and cook for 20 minutes. Add fresh vegetables, salt, pepper, thyme and marjoram. Cover and simmer about 50 minutes, or until the beans are tender. Add frozen lima beans, corn and peas. Continue to cook for 20 minutes. Add reserved beef. Cook until all is hot, about 10 minutes. (Soup is even better if made one day ahead and refrigerated.)