Quick and Easy Vegetable Soup
Serves 4 to 6
I love vegetable soup. Most vegetable soup recipes contain meat for extra flavor. There is absolutely nothing wrong with that but, sometimes, I need a last minute preparation and there is no meat defrosted. Other times, I just want a meatless meal. Admittedly, in this soup I do use a minimal amount of pancetta, which is a flavorful Italian bacon, but it can be omitted for a vegetarian version. Despite the number of ingredients, this healthy soup is quick and easy enough to make on a busy weeknight, but I would not hesitate to serve it for casual entertaining. All that is needed is a crusty loaf of bread for a complete meal.
Ingredients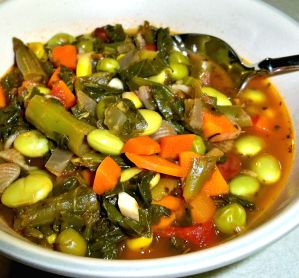 1 to 2 tablespoons olive oil
2 ounces pancetta or regular bacon, diced (optional)
1 small onion, chopped
1 medium carrot, chopped
1 medium stalk celery, chopped
1/2 small green bell pepper, chopped
1/2 small red bell pepper, chopped
Salt and pepper to taste
6 large cloves garlic, minced
1-1/2 tablespoons tomato paste
1/2 cup dry red wine
2 cans (14.5-ounces each) whole tomatoes, crushed slightly, with juices
4 cups water (see notes below)
1 bag (about 28-ounces) mixed frozen vegetables
8 ounces frozen shelled edamame or baby lima beans
8 ounces frozen greens, such as turnip or kale
1 can (15.5-ounces) red kidney beans, preferably l0w-sodium, rinsed and drained
2 bay leaves
2 teaspoons dried thyme leaves
2 teaspoons fennel seeds, crushed slightly
1 tablespoon dried marjoram leaves
1/4 cup small-shaped pasta, such as shells or elbows
Freshly grated Parmesan cheese for passing
Heat the oil in a large soup pot over medium heat. Add the pancetta and cook until most of the fat has rendered out, about 4 minutes. Add the onions, carrots, celery and peppers. Season lightly with salt and pepper; cook until softened, about 5 minutes. Stir in the garlic and tomato paste and cook another minute. Add the wine and stir, scraping up any browned bits in the bottom of the pan. Add tomatoes, water, frozen vegetables, beans and herbs. Bring to a boil, reduce heat to low, cover and simmer for about 40 minutes. Taste for seasoning, then add the pasta, cover and cook another 10 minutes, or until pasta is tender. Serve immediately, passing the cheese separately, or keep warm over very low heat until needed.
Notes: The size of the frozen vegetable package is an estimate. If you have two one pound bags, use it all. Low-sodium vegetable broth can be used instead of water, but I think this soup has enough flavor without it. The amount of pasta can be adjusted if you want a more or less brothy soup. I prefer to use whole wheat pasta. When I have them on hand, I like to add some fresh thyme and marjoram to the pot at the very end, or sprinkle some on the individual servings. This recipe can easily be doubled or halved, using all the canned beans or freezing the extra for a future use, such as in a salad. As with most soups, this is equally good if made a day ahead, and leftovers, refrigerated or frozen, reheat very well.