Summer Vegetable Stew
Serves 4
This is an excellent recipe for a hearty vegetable soup, especially when local summer produce is available. It is based on my medley of summer vegetables, called Giambotta, which is in the similar and related recipes, but I decided to try a stew version. You can use any combination of summer squash and eggplant that you prefer. If you have an abundance of fresh tomatoes, you can use those in place of canned. No matter how you make it, this is an easy, healthy, relatively quick and absolutely delicious vegetarian main dish and one pot meal.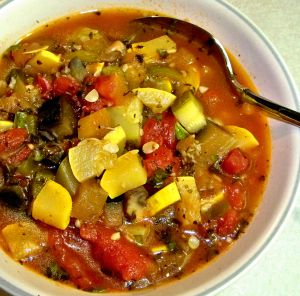 Ingredients
2 tablespoons olive oil
1 medium onion, chopped
1 large green pepper, chopped
8 ounces cremini mushrooms, quartered
5 large cloves garlic, minced
2 teaspoons fennel seeds
5 medium yellow squash and/or zucchini, cut into about 3/4-inch pieces
2 medium eggplant, cut into about 3/4-inch pieces
4 cans (14.5-ounces each) whole tomatoes, crushed slightly with hands, with juices
Salt and pepper to taste
2 tablespoons fresh thyme (or 2 teaspoons dried thyme leaves)
2 tablespoons fresh marjoram (or 2 teaspoons dried marjoram leaves)
1/4 cup shredded fresh basil
Crushed red pepper (optional, see notes below)
Freshly grated Parmesan cheese
Heat a large soup pot or Dutch oven over medium heat. Add the olive oil, then the onions and peppers. Cook until softened, about 5 minutes. Add the mushrooms and garlic. Cook for another 2 minutes. Add the fennel seeds and stir just to start releasing some of the flavor. Add the squash, eggplant, tomatoes, salt, peppers, thyme and marjoram. Bring to a boil, cover, reduce heat to medium-low, and simmer until the vegetables are tender, about 1 hour. Stir in the basil, taste for seasoning, adding more salt, pepper or fresh herbs, if needed. Serve, passing the crushed red pepper flakes and Parmesan cheese separately.
Notes: If everyone likes a little heat, add the crushed red pepper into the pot of stew. Otherwise, pass it separately for those who want the heat.