Tomato and Cabbage Soup
Serves 4
This Italian-influenced soup recipe is easy, absolutely delicious and a very healthy vegetarian one pot meal. It is a great way to use extra tomatoes from the summer garden or local farmers' market. However, it is so good that I have used canned tomatoes when fresh are out of season. I like this with orzo, preferably whole wheat, but you can substitute any small pasta or rice, adjusting cooking time as needed.
Ingredients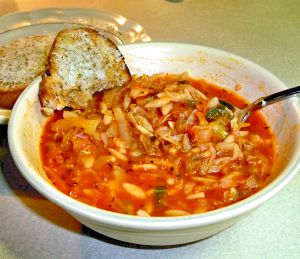 2 tablespoons olive oil
1 medium onion, chopped
6 cups shredded cabbage, about 1 small head
2 tablespoons finely chopped fresh garlic
Salt and pepper to taste
Water
4 pounds fresh tomatoes, peeled, lightly cooked and puréed (see notes below)
2 tablespoons shredded fresh basil
1 tablespoon chopped fresh marjoram
1 teaspoon fresh thyme
3 garlic cloves, crushed (optional)
1/2 cup orzo or other very small pasta
Freshly grated Romano or Parmesan cheese
Heat a large soup pot over medium- heat. Add the olive oil, then the onion, cabbage and chopped garlic; season with salt and pepper. Sauté until slightly golden, about 5 minutes. Add just enough water to moisten the bottom of the pan, about 1 cup. Cover, reduce to medium-low and simmer about 10 minutes, or until tender. Add the tomatoes, basil, marjoram, thyme, the 3 crushed garlic cloves, and additional salt and pepper. (If the tomatoes seem super thick, add some water to thin them out.) Cover and simmer again over medium-low heat for another 10 minutes. Taste for seasoning and add herbs, salt or pepper as needed. Bring back to a boil. Add the orzo and stir well. Reduce heat to low, cover and simmer about 20 minutes, stirring occasionally. Serve, passing the cheese separately.
Notes: The soup can be made ahead and refrigerated for up to three days. To peel fresh tomatoes, first blanch them quickly in boiling water, then submerse them in cold water. An alternative method is to place the tomatoes in a sink with a closed drain. Heat the water and pour over the tomatoes. Let them sit for about 5 minutes, turning them to make certain that all sides sit in the hot water. Drain off the hot water and replace with cold tap water. The peels will come off easily either way. To purée them, I use the pot in which they were cooked and use a hand blender, but they can be puréed in a blender or processor. If using canned whole tomatoes, use about 4 pounds, give or take a few ounces depending on the weight of the cans, and the juices. They do not need to be precooked, but can be puréed in the same manner in a large bowl. Use the fresh basil if at all possible. However, I would not hesitate to make this with dried herbs when the fresh are not available, especially the marjoram and thyme. Just reduce the amount by about one-half. Leftovers freeze very well for up to six months.