German Cabbage and Rice Soup
Serves 4
This cabbage and rice soup is based on a traditional German recipe. It is quick, very easy to make, healthy and absolutely delicious. Substitute vegetable broth for a vegetarian version. For an equally delicious dish, see the tomato and cabbage soup in the similar and related recipes.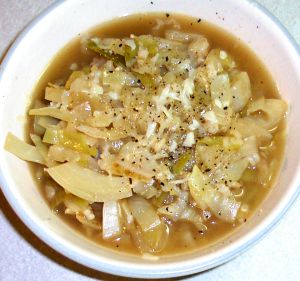 Ingredients
2 tablespoons butter, preferably unsalted
4-5 cups shredded cabbage
1 large onion, chopped, about 1-1/2 cups
4 cups low-sodium chicken broth
2 cups water
Salt and pepper to taste
1/8 teaspoon freshly ground nutmeg
3/4 cup uncooked long grain rice
Shredded Swiss cheese for garnish
Heat butter in large pot or Dutch oven over medium-high heat. Add cabbage and onions. Cover; cook until cabbage is golden-brown, stirring often, about 10 minutes. (Cabbage heads tend to have different amounts of moisture depending on several factors, including the time of year. You might need to add a little moisture or, conversely, you might have to remove the lid to get it to brown.). Add broth, water, salt, pepper, and nutmeg. Cover and simmer about 15 minutes. Add rice. Cover and simmer an additional 20 minutes or until the rice is tender, stirring occasionally. Taste for seasoning. Serve in individual soup bowls, passing the cheese separately.
Notes: Some types of rice absorb more water than others. If the soup is too thick, add more broth or water before tasting for seasoning. You can substitute half of the butter with olive or canola oil. You can use brown rice in this recipe. What I use takes about 40 minutes to cook, so I add it with the broth. Use a good, flavorful Swiss or Swiss-style cheese, such as Gruyere, Emmentaler or Jarlsberg.